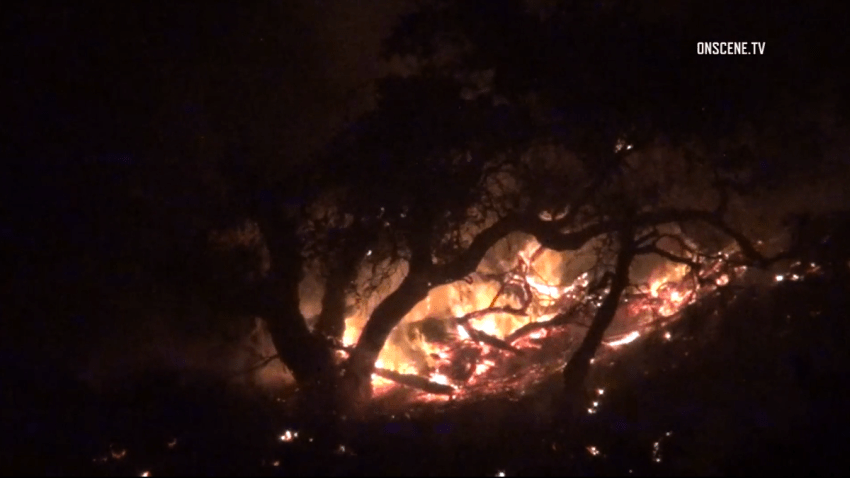 On the ninth day of the region's heat wave, a red flag warning signifying a high risk of wildfire will be in force Thursday in the L.A. County portion of the San Gabriel Mountains, an area that also includes the Angeles National Forest.
The warning will be in effect for 12 hours beginning at 9 a.m. as a result of high winds, low humidity, dry vegetation and high heat.
Expected in the mountains are southwest winds of between 15 and 25 miles per hour, gusting to 35 mph, although 45-mph gusts are possible in the foothills of the San Gabriels in the Antelope Valley, forecasters said. The strongest winds will be blowing through the Highway 14 corridor into the Antelope Valley, they said.
Highs of between 98 and 105 degrees are expected in the mountains at low elevations and in the foothills, while at higher elevations, temperatures will be between 85 and 95.
An excessive heat warning will be in effect until 9 p.m. Sunday in the Antelope Valley, where highs are forecast to be between 105 and 110 degrees. A less serious heat advisory will be in force until 9 p.m. Sunday in the Santa Clarita Valley, where highs are expected to range between 100 and 1-5 degrees.
The rest of Los Angeles County, meanwhile, will remain hot, thanks to a ridge of high pressure over Arizona, but highs in some communities will be a few degrees lower than Wednesday.
Sunny skies are forecast in L.A. County, along with highs of 73 at LAX; 79 in Long Beach; 81 in Avalon; 82 in Downtown L.A.; 89 in San Gabriel, Burbank and on Mount Wilson; 90 in Pasadena; 97 in Saugus; 98 in Woodland Hills; 105 in Palmdale; and 106 in Lancaster. Temperatures will climb Sunday and Monday, then begin declining Tuesday.
Partly cloudy skies are forecast in Orange County, along with highs of 67 in San Clemente; 68 in Laguna Beach; 70 in Newport Beach; 81 in Anaheim; 83 in Fullerton, Irvine and Mission Viejo; and 86 in Yorba Linda. Temperatures will be roughly the same over the next several days.
Copyright CNS - City News Service