A Los Angeles Police Department officer was killed Friday morning in a crash involving a dump truck and a patrol vehicle that left another officer and the truck driver in critical condition.

Fire-rescue personnel responded to the crash at Loma Vista Drive near Doheny Road, near the Greystone Mansion area in Beverly Hills. A male officer identified as a 10-year LAPD veteran and father assigned to the LAPD Hollywood Division died in the crash, according to police.
"It's a sad day," said LAPD Chief Charlie Beck, describing the officer as a "very well regarded" family man.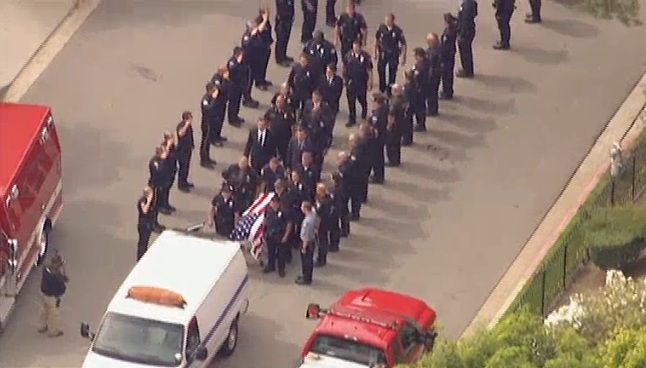 Police officers, firefighters and other emergency response personnel stood in formation as the officer's body was removed from the site of the crash (pictured, right). Squad cars were part of a procession that accompanied the coroner's van in a procession from Beverly Hills and through West Hollywood to the LAPD Hollywood Station.
A block-long line of officer saluted their colleague as the coroner's van passed.
A female officer, identified as a probationary officer who recently graduated from the academy, and the truck driver were hospitalized in critical condition. The female officer and the truck driver suffered non-life threatening injuries, according to Beck .
Officers gathered at Cedars-Sinai Medical Center, just southeast of the crash site, to wait for updates.
The officers were responding to a call at the time of the crash, but Beck did not provide details at a mid-day news conference. Beck described the response as an "unknown trouble call" and did not have details regarding whether the patrol vehicle's lights and sirens were activated.
"At the very early stages, it looks like a brake failure on the part of the truck," Beck said. "Anybody who lives in that area knows, it's very steep... it's a difficult area for truck drivers to drive in."
Aerial video showed the dump truck on its side near the intersection.
The injured officer graduated about three months ago from the LAPD's training academy.
"She's alert, in considerable pain," Beck said.
Nearby roads are closed for the investigation. A closure on Loma Vista Drive will likely be in effect throughout the morning for the investigation, Beverly Hills police said.
The last member of the Los Angeles Police officer to die in the line of duty was Officer Spree DeSha, killed in a collision with a Metrolink train and Union Pacific freight train in September 2008. Twenty-four other passengers were killed in the collision.

Seven months earlier, LAPD Officer Randal Simmons was shot and killed in SWAT standoff at a Winnetka home.
"This tragedy reminds us of the selflessness of our LAPD officers who put their lives on the line everyday to protect us," said Mayor Eric Garcetti. "Amy's and my thoughts and condolences are with the families and all of their LAPD brothers and sisters today."