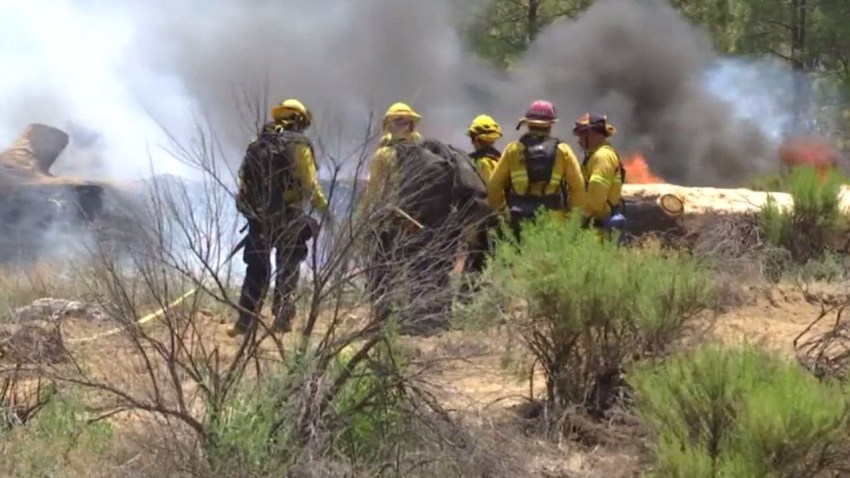 Firefighters Sunday significantly increased containment of a suspected arson wildfire burning in Riverside County.
The Cranston Fire, which began Wednesday just before noon and has burned approximately 13,130 acres in the San Bernardino National Forest, was 57 percent contained Sunday evening, nearly doubling the 29 percent containment reported Sunday morning.
While the flames had initially threatened more than 4,900 structures, only 166 structures were considered to be under threat by Sunday evening, as 1,546 firefighters continued to fight the flames, according to the US Forest Service.
Residents in Mountain Center, Hurkey Creek, San Jacinto Mountain State Park and Garner Valley north of Morris Ranch Road remained under evacuation, but Idyllwild, Fern Valley, Pine Cove and Cedar Glen were no longer under evacuation.
Firefighters hope to have the blaze fully contained by midnight Thursday, Aug. 9.
Banning High School and Hamilton High School have been established as evacuation centers. They are located at 100 W. Westward Ave. and 57430 Mitchell Rd., respectively.
Dysart Equestrian Center, San Jacinto Valley Animal Hospital and Coachella Animal Campus are acting as animal evacuation centers, with Coachella Animal Campus taking in small animals. Residents who need help evacuation animals can call Riverside Animal Services at 951-358-7350.
Brandon N. McGlover, 32, was arrested Wednesday night on suspicion of setting the fire and several other fires that same day in the southwest Riverside County area and along Highway 74.
He faces 15 felony counts, including one count of aggravated arson, five counts of arson of an inhabited structure, and nine counts of arson of forest or wildland.
Highway 243 remained closed from Lower Saunders Meadow Road to Highway 74 Sunday afternoon, though residents with ID can enter the closure in Banning at Wesley Street. Highway 74, meanwhile, is closed between Borco Street in Hemet and Morris Ranch Road in Garner Valley.

Due to the Cranston Fire, the Idyllwild Campground, Stone Creek Campground, all wilderness campgrounds and hiking are closed until further notice in the San Jacinto Mountain State Park.
The San Bernardino National Forest is also prohibiting access to lands within the San Jacinto Ranger District, including roads and trails, until at least Tuesday, Aug. 31.

Gov. Jerry Brown on Thursday issued a state of emergency in Riverside County, which clears the way to provide needed state resources. The fire was burning "with a rapid rate of spread" through timber, brush and chaparral, according to the USFS, which reported that more than 1,300 firefighters from across the state were taking part in the containment efforts.
Cal Fire has reported nearly 3,400 wildfires this year across California that have burned about 99,000 acres. In 2017, the state's firefighting agency reported 3,200 wildfires that burned more than 216,000 acres through the first seven months of the year.
Last year was one of the most deadly and destructive on record in terms of wildfires in California. Forty-six people were killed and more than 11,000 homes were destroyed by wildfires in 2017. More than 9,000 fires burned 1.2 million acres across California.
The significant increase in the numbers and size of fires last year was largely because the state was coming off one of its wettest winters in years in 2016-2017, which left hillsides covered in grass and other vegetation. That grass dried out in summer and turned into tinder, providing fuel for rapidly spreading fires often pushed by strong winds that can carry hot embers for miles and turn small spot fires into infernos.
An increase in the number of dead and dying trees also has exacerbated the wildfire threat, Cal Fire officials said.