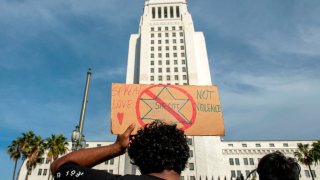 Another weekend filled with protest marches and other actions denouncing police brutality is set for various parts of Southern California.
The is the fourth weekend of actions in the Southland and across the United States in response to the Memorial Day death of George Floyd in Minneapolis. Floyd was killed when a police officer knelt on his neck for nearly nine minutes while Floyd was handcuffed and face-down on the ground.
The officer has been charged with second-degree murder, and three other officers involved in the arrest have been charged with aiding and abetting second-degree murder.
Some of Saturday's marches and demonstrations are tied to Juneteenth celebrations, which marks the end of slavery in the United States.
Other protests protest President Donald Trump's rally in Tulsa, Oklahoma scheduled for Saturday evening.
Events planned for Saturday include:
7:45 a.m. - "Solidarity Bike Ride" beginning at Echo Park Lake and ending at Los Angeles City Hall, 200 N. Spring St.
9 a.m. - "Paddle Out for Peace & Unity" at Breakwater in front of the Venice sign at Pacific and Windward Avenues.
9:30 a.m. - "March for Justice" at Hollywood Blvd. and Ivar Ave.
10 a.m. - "Children's protest" in Los Angeles beginning at 3820 Santa Rosalia Drive.
10:30 a.m. - Weekly protest beginning at Plummer Park, 7737 Santa Monica Blvd. in West Hollywood.
11 a.m. - "Fathers & Children March for Unity, Equality and Justice" in Baldwin Hills at Crenshaw and Martin Luther King Jr. Boulevards.
11 a.m. - "Juneteenth Celebration" at 1621 Canada Blvd. in Glendale.
11 a.m. - Caravan protest up Pacific Coast Highway beginning at 18741 Pacific Coast Highway in Malibu.
Noon - Black and LGBTQ+ Youth Solidarity March to City Hall. The march begins at Echo Park Lake.
Noon - Protest and rally in Inglewood, beginning at Kareem Ct. and Pincay Dr.
1 p.m. -LA Skate Protest for Black Lives Matter, in Los Feliz. Beginning at at Vista Theater, 4473 Sunset Dr.
1 p.m. - Car protest and voter registration in Long Beach at 5400 E. Ocean Blvd.
1 p.m. - Protest in Support of BLM at 3331 Torrance Blvd. in Torrance.
2 p.m. A Juneteenth Rally and Celebration in Inglewood at Ladera Park.
2 p.m. - Protest being held at Los Angeles City Hall.
2 p.m. - Juneteenth speakout at MLK Memorial on Compton Blvd in Compton.
3 p.m. - March and rally at Fourth and French Streets in Santa Ana.
4 p.m. - A rally in the name of Kenneth Ross Jr. and all fathers stolen by police violence at Rowley Park, 13220 Van Ness Blvd. in Gardena.
4 p.m. - "Fight the Power" protest at Los Angeles City Hall, 200 N. Spring St.