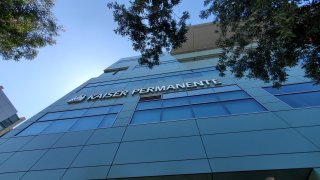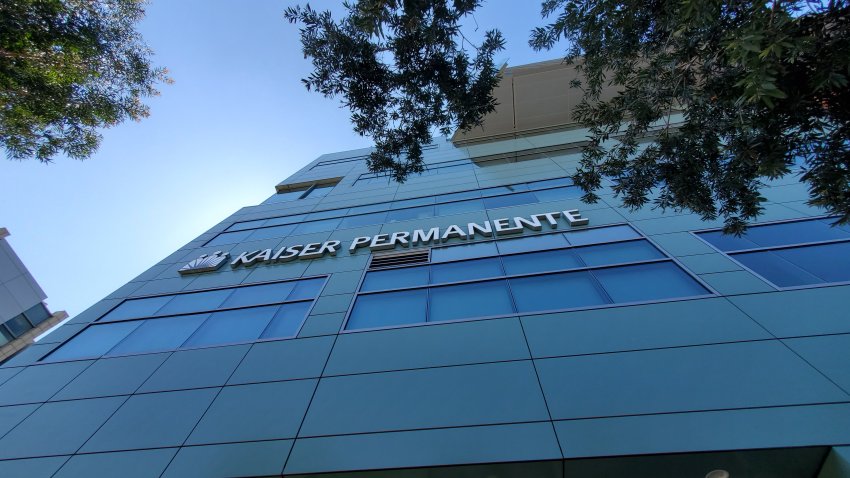 Kaiser Permanente announced Thursday that it will temporarily close some medical offices in Southern California and limiting services at others due to the coronavirus pandemic.
Click here for a full list of locations or scroll down.
In a statement issued Thursday morning, Kaiser Permanente said the changes are part of an effort to limit the spread of the deadly virus.
"The health and safety of our members is always our top priority," the statement said. "In an effort to limit additional exposure to COVID-19 throughout the community, we have decided to temporarily close or limit services. By doing this, we are able to coordinate care and combine much-needed medical equipment and staff while still providing high-quality care to our members."
Prescriptions call be filled at any Kaiser Permanente pharmacy.
Below is a full list of locations provided by Kaiser Permanente and listed alphabetically by community.
Antelope Valley
Local
Get Los Angeles's latest local news on crime, entertainment, weather, schools, COVID, cost of living and more. Here's your go-to source for today's LA news.
Palmdale Medical Offices - Closed. Pharmacy remains open Monday-Friday, 8 a.m. to 7 p.m .
Downey
Cerritos Medical Offices - Closed; For same day prescriptions, the pharmacy at the Bellflower Medical Offices is open. For mail-order, see information above
Lynwood Medical Offices - Closed
Whittier Vision Essentials - Closed
Kern County
East Hills Medical Offices - Closed; For same day prescriptions, the pharmacies at Ming and Stockdale Medical Offices are open. For mail-order, see information above
Coffee Medical Offices - Closed; For same day prescriptions, the pharmacies at Ming and Stockdale
Medical Offices are open. For mail-order, see information above
Vision Essentials - Closed
Los Angeles Metro
Pasadena Vision Essentials - Closed
East Los Angeles Vision Essentials - Closed
Orange County
Aliso Viejo Medical Offices - Closed; For same day prescriptions, the pharmacy at the Irvine Medical Center is open. For mail-order, see information above
Alton/Sand Canyon Parkway Medical Offices 1 and 2 - Open; no change
Anaheim Hills Medical Offices - Closed; For same day prescriptions, the pharmacy at the Anaheim Medical Center is open. For mail-order, see information above
Barranca Medical Offices - Open; no change
Brea Medical Offices - Closed; For same day prescriptions, the pharmacy at the Anaheim Medical Center is open. For mail-order, see information above
Euclid Medical Offices - Open; This medical office will serve Primary, Pediatric Well-Child visits, Lab Radiology.
Foothill Ranch Medical Offices - Closed; For same day prescriptions, the Irvine Medical Center and Tustin Ranch Medical Office pharmacies are open. For mail-order, see information above.
Garden Grove Medical Offices - This medical office, including Urgent Care, will be dedicated to respiratory symptoms only. Pharmacy is open
Harbor/MacArthur Medical Offices - This medical office, including Urgent Care, will be dedicated to non-respiratory symptoms. Pharmacy is open. For respiratory Urgent Care needs, visit Garden Grove Urgent Care
Huntington Beach Medical Offices - Closed; For same day prescriptions, the pharmacies at Harbor/MacArthur and Irvine Medical Center are open. For mail-order, see information above
Kraemer Medical Offices 1/2 - Open; no change
La Habra Medical Offices - Closed; For same day prescriptions, the pharmacy at the Whittier Medical Office is open. For mail-order, see information above
La Palma Medical Offices - Closed; For same day prescriptions, the pharmacy at the Anaheim Medical Center is open. For mail-order, see information above
Lakeview Medical Offices - Closed; For same day prescriptions, the pharmacy at the Anaheim Medical Center is open. For mail-order, see information above
Mission Viejo Medical Offices - This medical office, including Urgent Care, will be dedicated to respiratory symptoms. Pharmacy is open. For non-respiratory Urgent Care needs, visit Harbor/MacArthur Urgent Care.
San Juan Capistrano Medical Offices - Closed; For same day prescriptions, the pharmacies at Irvine Medical Center, Barranca and Tustin medical offices are open. For mail-order, see information above
Tustin Ranch Medical Offices - Open; This medical office will serve Primary, Pediatric Well-Child visits, Lab Radiology.
Yorba Linda Medical Offices - Closed; For Urgent Care needs, visit Harbor/MacArthur Urgent Care. For same day prescriptions, the pharmacy at the Anaheim Medical Center is open. For mail-order, see information above
Panorama City
Canyon Country Medical Offices - Closed
North Hollywood Medical Offices - Closed; For same day prescriptions, the Panorama City Medical Center pharmacy is open. For mail-order, see information above.
Panorama City Vision Essentials - Closed
Santa Clarita Executive Plaza Medical Offices - Closed;
For Behavioral Health appointments and crisis management, call (800) 700-8705
For crisis intervention, referrals, and resources after hours, weekends and holidays, call (800) 900-3277
Riverside and Coachella Valley
Palm Springs Medical Offices - Closed, For same-day prescriptions, the Palm Desert Medical Offices pharmacy is open. For mail-order, see information above
San Bernardino County
Behavioral Health Medical Offices – Closed; Fontana Medical Office Building 7, Hesperia, Ontario, Randall and San Bernardino.
For Behavioral Health appointments and crisis management, call (866) 205-3595
For crisis intervention, referrals, and resources after hours, weekends and holidays, call (800) 900-3277
Chino Central Medical Offices - Closed; For same day prescriptions, the pharmacies at Chino Grand and the Ontario Medical Center are open. For mail-order, see information above
Colton Medical Offices - Closed; For same day prescriptions, the pharmacy at Redlands is open. For mail-order, see information above
Indian Hill Medical Offices - Closed; For same day prescriptions, the pharmacies at Rancho Cucamonga and the Ontario Medical Center are open. For mail-order, see information above<
San Bernardino Medical Offices - Closed; For same day prescriptions, the pharmacy at Redlands is open. For mail-order, see information above
Upland Medical Offices - Closed; For same day prescriptions, the pharmacy at Rancho Cucamonga is open. For mail-order, see information above
San Diego
Bostonia Medical Offices - Closed
Carmel Valley Medical Offices - Closed
Carlsbad Medical Offices - Closed
El Cajon Medical Offices - Closed
Kearny Mesa Medical Offices - Closed
Vista Medical Offices - Closed
Limited Services:
Oceanside Medical Offices — Pediatric Well Child visits only
Point Loma Medical Offices — Behavioral Health, Addiction Medicine, Surgical Fertility, Pharmacy, Laboratory, and Radiology
Rancho Bernardo Medical Offices – Pediatric Well Child visits only
Rancho San Diego Medical Offices – Pediatric Well Child visits only
South Bay
Gardena Medical Offices - Closed; Pharmacy remains open
Lomita MOB Medical Offices - Closed
Long Beach Medical Offices - Limited services being offered; Pharmacy, lab, radiology, and x-ray
Manhattan Beach Medical Offices - Closed; For same day prescriptions, Torrance pharmacy is open. For mail-order pharmacy, see information above
Main Street Health Pavilion - Closed
Parkview Medical Offices - Closed
Signal Hill Medical Offices - Closed; For same-day prescription, Long Beach pharmacy is open. For mail-order pharmacy, see information above
Torrance Medical Offices - Closed; Pharmacy remains open
Target Clinics
West Los Angeles
La Cienega Vision Essentials - Closed
Woodland Hills and Ventura County
Camarillo Medical Offices - Closed
Simi Valley Medical Offices - Closed
Simi Valley Medical Offices 2 (Behavioral Health) - Closed;
For Behavioral Health appointments and crisis management, call (855) 701-7955
For crisis intervention, referrals, and resources after hours, weekends and holidays, call (800) 900-3277
Thousand Oaks Vision Essentials - Closed