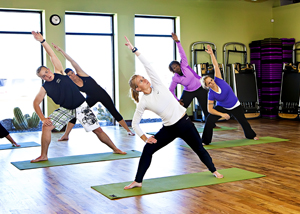 If you watch "The Biggest Loser," you've seen the contestants exercising and sweating like crazy, with the help of professional trainers, and dieting under careful guidelines.


They can still cheat. But if they really want to lose that weight, and if they're really ready to commit, they don't.


And maybe you've thought, "If I could be at The Biggest Loser Ranch like those people on the show, I'd lose weight too."


Health & Wellness
Health and wellness news
"Time and time again I hear, Tara If I had that amazing opportunity that you did to train with Bob and Jillian and be surrounded with all that great food, I'd lose the weight, too." Said Tara Costa, a 7th season finalist on "The Biggest Loser."


Tara has worked as a spokesperson for what you might call, "The Biggest Loser ranch for the rest of us". The Biggest Loser TV show has branched out into the resort business with the Biggest Loser Resort at Fitness Ridge, in Southern Utah.


The program at the resort is no walk in the park. It's what they like to call "a compassionate boot camp,"just like on the show. It provides guests with several hours of work-outs a day! The resort says it can adjust its program to men and women of any fitness level, with all sorts of cardio including hikes in the beautiful surroundings, a huge, state of the art gym, gourmet dietetic spa cuisine, and nutritional classes to help people succeed.


"Guests are given a chance to sit in on cooking demonstrations. We also have a lecture where we talk about taking the spa home," said Emily Fonnesbeck, a nutritionist at the resort.


For the most part, Guests are on a 1,200 calorie a day diet. It's a basic program of calories in, calories out. Just like on the show. No fad diets, no weight loss gimmicks. Just a tough re-education about exercise and nutrition in a gorgeous setting. The price, no small potatoes. People pay up to $1,900 for a week at the resort.


The resort owners say, they're hoping cross-promotion with the TV Show will help them to expand, maybe nationwide. Maybe to a rustic setting near you.