Originally Posted: Aug. 8, 2011
A plucky British sports car and its determined driver left Huntington Beach Monday on a solo drive to the East Coast that will test man and machine.

Then, John Nikas, of Irvine, and his1953 Austin-Healey 100 will turn around and head back to California.

The Drive Away Cancer challenge is a fund-raising effort for cancer charities and another part of an amazing journey for Nikas, who has cancer.
The 5,800-mile coast-to-coast-to-coast drive -- he will turn around in Charleston, S.C. before heading to Monterey, Calif. in time for the vintage car festival later this month -- is Nikas' way of helping others unite in the fight against cancer.
Local
Local news from across Southern California
Nikas is carrying Sharpie markers so people he meets can write the names of loved ones affected by cancer on the sports car. By the time he left Monday morning, the car already had about 100 hand-written names.

He said it might sound like a crazy idea, but what would you expect from a vintage sports car racer and member of the Southern California Austin-Healey car club?
"It's a perfect metaphor for people living with cancer," Nikas said Monday during a stop near the junction of the 15 and 40 freeways. "If this car can even make this attempt, and actually make it, it says a lot. It's so easy to just get depressed and just sit and wait, and maybe driving a 60-year-old car across the country isn't what everyone would do, but it's about doing something productive in the time that you have."
[UPDATE, 2:26 P.M., AUG. 9] Nikas was nearing Albuquerque.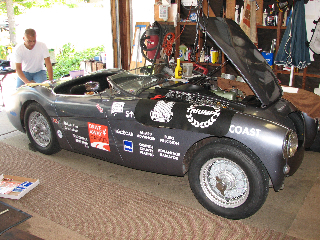 About six months ago, the 6-foot-3 Nikas weighed about 100 pounds. He was helped into and out of his cars at racing events, but continued doing what he enjoyed -- driving.
He said the inspiration to drive across the country and back came from a documentary about one-legged runner Terry Fox.
"I looked like death, but I still raced because I enjoyed it," said Nikas, who has been driving vintage race cars for about five years. "I think if we can pull this (drive) off -- and even if not -- just making the attempt says an awful lot."
The AH 100 (pictured, right) also has been through rough times. Mechanics worked on the car for two weeks after it was donated by AH Club member Mike Newsome, who was just diagnosed with cancer.

"This car wants to run, but the more we worked on it, the more we were amazed it ran even to begin with," said Steven Kingsbury, who was with Nikas Monday morning when he set off from Huntington Beach Pier with a police escort and farewell from the mayor. "There was so much wrong."
Rust -- a lot of it -- was just one of the issues. During the rebuild, a 1955 penny, apparently serving as a vital spacing element, fell out when Kingsbury removed the old starter motor.
The Austin-Healy is a favorite at vintage car events throughout the country. Nikas' will appear Aug. 17 at the Russo and Steele Auction during the Monterey Motorsports Reunion in Monterey.
The AHs often find themselves pitted against cars with larger, more powerful engines at events like the Monterey Motorsports Reunion. What they lack in relative straight-line speed, they make up for with superior handling when the right driver is behind the wheel.
And, they have character, a feature that certainly doesn't come standard on every car.
"She's damaged, she's a little broken, she just needs someone to believe in her and something worthwhile to try," said Nikas. "I could rent a Camry and do this drive, no problem. But why?"
Nikas' fundraising drive isn't a race, although he expects to arrive on the East Coast in less than nine days. Most of the drive will be on Interstate 40 -- basically, a straight shot across the southern United States.

More than 25 British car clubs and three national marque clubs pledged support. Click here to donate.
"The vintage racing community has been absolutely wonderful," said Nikas. "With vintage race cars, generally, and so many of the British ones, in particular, you tend to meet kind and decent people. You have to have patience, you have to have a sense of humor, and you have to believe in mutual assistance."

A support vehicle will follow Nikas and his aspirational Austin-Healy during the trip. You can follow them on the Drive Away Cancer Facebook page.