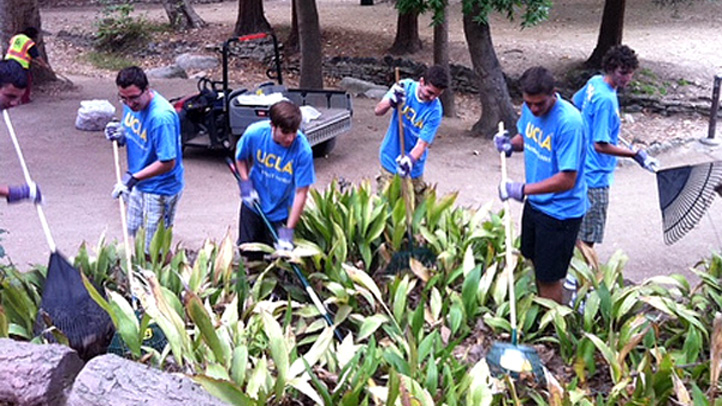 The holiday season presents an abundant amount of volunteer opportunities. Here are some organizations that are still accepting volunteers in the Los Angeles area.
If we left out any opportunities, please leave a comment below with the event details.
Help for Homeless and Low-Income People
Local
Local news from across Southern California
Union Station Homeless Services
Union Station is the San Gabriel Valley's largest and most comprehensive social service agency assisting homeless and very low-income people.
Volunteer Details: Anyone can volunteer, all they need to do is sign up on the website. There is no deadline. For additional information, contact 626-240-4550.
Westside Food Bank is an independent, non-governmental, 501(c)(3) non-profit corporation founded in 1981, which provides food to social service agencies on the Westside of Los Angeles County. Our food often enables low-income people to stay in their homes, deterring the problem of homelessness, because it saves them from having to make the agonizing choice between paying for rent or food when they can't afford both.
Volunteer Details: Currently accepting volunteers until spaces are filled
-If interested, contact Allison Griffith (310) 828-6016 ext. 12 or Allison@westsidefoodbankca.org
Dream Center
The Dream Center, a volunteer driven organization that finds and fills the needs of individuals and families alike, was founded in 1994 and currently serves over 40,000 people each month.
Services and programs offered include residential rehabilitation programs for teens and adults, a shelter for victims of human trafficking, a transitional shelter for homeless families, mobile hunger relief and medical programs, and a foster care intervention outreach that works closely with Los Angeles County's Department of Children and Family Services to keep families intact by delivering the required furnishings, clothing and food to assure that their homes meet DCFS standards.
Volunteer Details: Accepting volunteers from now until Dec. 19 (Closed during the actual holidays)
-Recommend taking a tour of the facilities prior to signing up to volunteer. Tours are given every Tuesday and Friday at 1PM.
-Contact the Volunteer Office if interested (213) 273-7107.
Nursery Homes/Elderly
-Volunteers deliver meals to ill, elderly and other homebound people, a service that enables them to live independently. Volunteers act as drivers
or helpers and work between 11 am and l pm.
-Volunteers work one day a week or as substitutes
Volunteer Details: Accepting volunteers now through mid-January.
-If interested, please call Joanna Vasquez at 310-394-7558 or contact her via email joannavasquezmow@aol.com
Volunteer Details: Currently accepting volunteers, must contact Lucy Saavedra for more information on the holiday programs and projects currently taking place. 626-282-3151.
Children
Volunteer Details: Accepting volunteers from now until the end of next week for the children's toy giveaway.
-No children under the age of 13
-Volunteer times will be from 10AM-3PM
-Contact Valerie at (626) 915-1981 for additional information
L.A. Works is a 501(c) 3 nonprofit, volunteer action center that creates and implements hands-on community service projects throughout the greater Los Angeles area. The organization strives to empower Angelenos to address pressing social issues through volunteerism and community collaborations.
Volunteer Details: Accepting volunteers now and throughout the rest of the holiday season.
-Ask that each volunteer sign up through the website.
-If you have any questions, contact (323) 224-6510 for more information
One Voice is a non-profit organization that helps families living at poverty levels within the community. The programs range from providing emergency relief services to families in immediate crises to a scholars program designed to better the quality of people's lives.
Need Volunteers for the Holiday Food Program (Dec. 15-18).
-Provides Christmas food baskets, books and toys to over 2,500 families (12,500 people) living in poverty in the Los Angeles community. Over 2,000 volunteers work together to personally package and distribute the toys, books and food to our deserving families.
Volunteer Details: Print off a release form off of the website and then show up. No special requirements. For more information call (310) 458-9961.
Church Opportunities
Volunteer Details: Only have volunteer opportunities for an after Christmas event "Un-deck the Halls." The Christmas decorations will be taken down on Dec. 29.
- For more information, please call (818) 831-9333
Women's Shelter
The mission of the Downtown Women's Center is to provide permanent supportive housing and a safe and healthy community fostering dignity, respect, and personal stability, and to advocate ending homelessness for women.
Volunteer Details: Volunteer sign-ups began Dec. 1. Anyone may sign up until spaces are filled.
-Limited opportunity for children volunteers
-For more information contact Katie at (213) 213-2819
Other
(909) 859-7135
Volunteer Details: Accepting volunteers all year round
-Sign up online
-All volunteers are subject to a background check