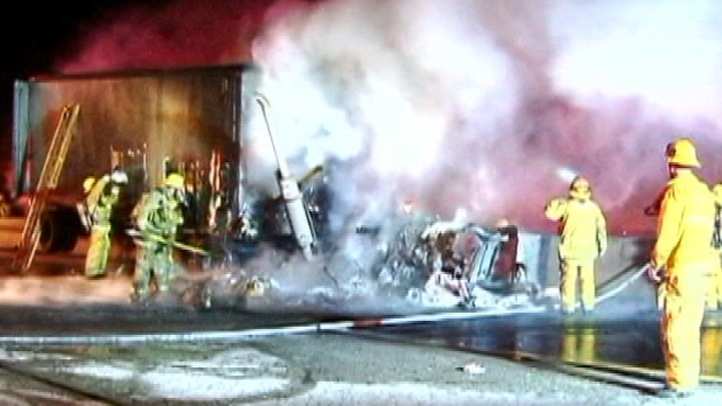 A woman driving the wrong way was killed early Thursday in a fiery crash involving a UPS semi-trailer truck on the 210 Freeway in Sylmar.
Updates: Follow @SeanNBCLA

The collision on the westbound 210 just east of Roxford Street was reported at 2:16 a.m., said California Highway Patrol Officer Anthony Martin.
The crash prompted the closure of all westbound lanes and two eastbound lanes as the UPS big rig crashed through the center divider, landing on its side. Two lanes were closed on the eastbound side and one lane was closed on the westbound side at 7 a.m.
Local
Local news from across Southern California
The road reopened at about 11 a.m.
"The big rig went up in flames," said CHP Sgt. Jim Mair. "We have witnesses that saw the sedan traveling eastbound in the westbound lanes. Basically, it was head-on impact."
The deceased victim was a woman in the passenger sedan who was pronounced dead at the scene. She was reported to have been driving the wrong way on the freeway, firefighters told the photographer.
A pile of boxes spilled onto the road. A UPS crew was sent to retrieve the packages.

The fire was extinguished by 2:38 a.m., said Brian Humphrey of the Los Angeles Fire Department.
Follow NBCLA for the latest LA news, events and entertainment: iPhone/iPad App | Facebook | Twitter | Google+ | Instagram | RSS | Text Alerts | Email Alerts