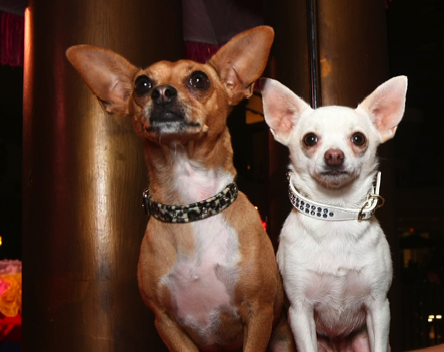 A 3-year-old Chihuahua from Pico Rivera won Petco's fifth annual Chihuahua Races regional event Satuday at a Petco store in Anaheim and will compete in the finals in New York City Aug. 29, according to the company.

About 350 spectators saw Mimi beat more than 160 other pint-sized pooches with a time of 2.6 seconds on the 35-foot-long track, earning her a shot at the title of America's Fastest Chihuahua.

According to Petco, the dog has been training regularly for the races, running three miles several times a week.

"I'm so excited," said Mimi's owner, Susana Rucobo. "I can't believe we won! This isn't our first time racing, but our first time to win. I've never been to New York before, but I'm going to train with her to make her the national winner."

Second place went to Vino, owned by A'Briana Cortes, and Lucy, owned by Debra Lawson, came in third.

The San Diego-based chain has sponsored the races for the past four years, with finals being held at Petco Park, the home of the Padres baseball team. But this year, the finals will be held Aug. 29th in New York City. The Anaheim finals were one of seven regional finals, including Chicago, Miami, Dallas, San Francisco, Boston and Philadelphia.

Mimi and six other regional winners -- one pup and two human owners from each regional race market -- will receive an all-expense-paid trip, courtesy of Petco and JetBlue Airways, to race in the finals at New York City's Riverside Park.

The grand prize includes a trophy, a $300 Petco gift card, a year's supply of Royal Canin Chihuahua food -- about 12 times the average Chihuahua's weight -- and official bragging rights as America's Fastest Chihuahua.

"This year we're not only racing from the West Coast to the East Coast, we're also using the races as a way to show people how easy, safe and fulfilling it can be to be `on the go' with our four-legged companions -- or how to best arrange for their safe and comfortable care back home while away on vacation," said Greg Seremetis of Petco.

Chihuahuas have their origins in Mexico, dating back more than 2,000 years. They are the smallest and lightest breed of dog in the world and are the 12th most popular purebred dog breed in the country, according to the American Kennel Club.

Petco operates more than 950 pet supply stores in 50 states and the District of Columbia, and its Petco Foundation has raised more than $50 million since 1999 to promote and improve the welfare of what it calls companion animals.

The company works with and supports more than 5,700 local animal welfare groups across the country to help find homes for more than 200,000 adoptable
animals every year.
Copyright Archive Sources