A paramedic who was treating a patient in the back of an ambulance when it collided with a car was released from the hospital Monday evening.
Alex Wong, 20, was seated in the back of a CARE ambulance Monday when the crash happened.
The ambulance was taking a patient from Long Beach Memorial Hospital to Long Beach Community Hospital when the crash happened.
Ambulance dash cam video obtained by NBC4 showed a black sedan running a red light and colliding into the ambulance, tossing it on its side.
The ambulance was on a non-emergency call, so it did not have lights and sirens on.
The crash happened at 5 a.m. near Orange Avenue and Spring Street (map) in Signal Hill. The woman driving the sedan, and all three occupants of the ambulance, were taken to the hospital for their injuries.
Wong suffered a compressed spinal fracture, fractured rib and minor cuts to both legs and the right side of his forehead. He also had a more serious cut to the left side of the head.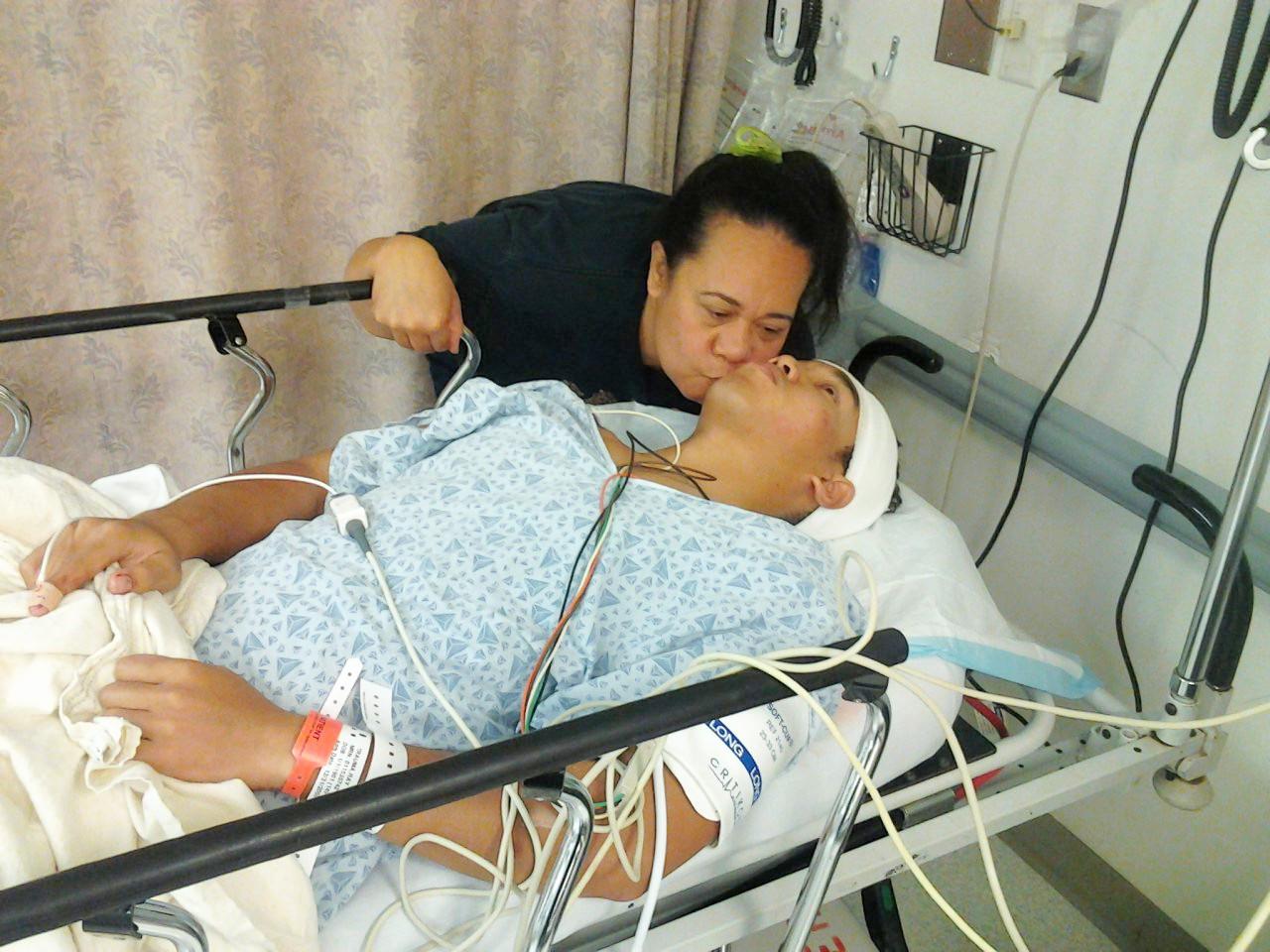 The dash cam video from the CARE ambulance showed David Romero, the ambulance driver, traveling eastbound on Spring Street headed toward a green light.
He is seen on the video trying to veer right before a black sedan comes into the frame, colliding into the ambulance. The video clearly shows the traffic light was green when Romero entered the intersection.
Wong told NBC 4 he is suffering from injuries to his head, back and side. He said had it not been for the protective netting he grasped onto at the moment of impact, his injuries could have been much worse.
Also, gurneys in each ambulance, according to CARE, are mounted to the floor.
"That stayed all the way through the accident and the patient stayed strapped to the gurney and the gurney strapped to the vehicle so that plays a lot into the patient's safety," said Bob Barry of CARE. "The attendant also wears a seatbelt and restraint in the back."
Signal Hill police had been reviewing the dash cam video and investigating what caused the woman driving the black sedan to go through what appeared to be a red light in the video.
Note: An earlier version of this article stated the ambulance driver remained hospitalized, but CARE later clarified that the paramedic, not the driver, was in the hospital.
Published at 5:47 AM PDT on Apr 21, 2014 | Updated at 9:27 PM PDT on Apr 21, 2014