Two marathon runners connected by a picture that almost cost one a chance to participate in the Boston Marathon met Monday at the event starting line for the final leg of a challenge they've taken on together.
Reed Semcken and Adrian Broca -- a two-time winner of the Boston Marathon Visually Impaired Division -- were two of an estimated 36,000 runners who lined up early Monday for the 26.2-mile run into downtown Boston. It's a dream for both runners that almost never happened because of a picture Semcken took during the Los Angeles Marathon.
The picture at Mile 18 was his proud father's idea. It captured the excitement of Semcken's first marathon, but stopping for the photo took time -- seconds that cost him a qualifying time for the Boston Marathon.
"The picture itself took 8, 10, 15 seconds to take, and I ran a 3 hour, 5 minute and 6 seconds (marathon time)," Semcken said. "The time to qualify for Boston is 3 hours, 5 minutes or less, so I missed it by 6 seconds.
"My dad was just distraught."
Semcken appeared to have just missed out on his opportunity to run in Boston, but then received a phone call about four weeks ago. His father had contacted marathon officials, who told him they needed someone to run with a blind participant, 36-year-old multi-marathon runner Broca. Semcken, a USC student, was one of four guides named to help Broca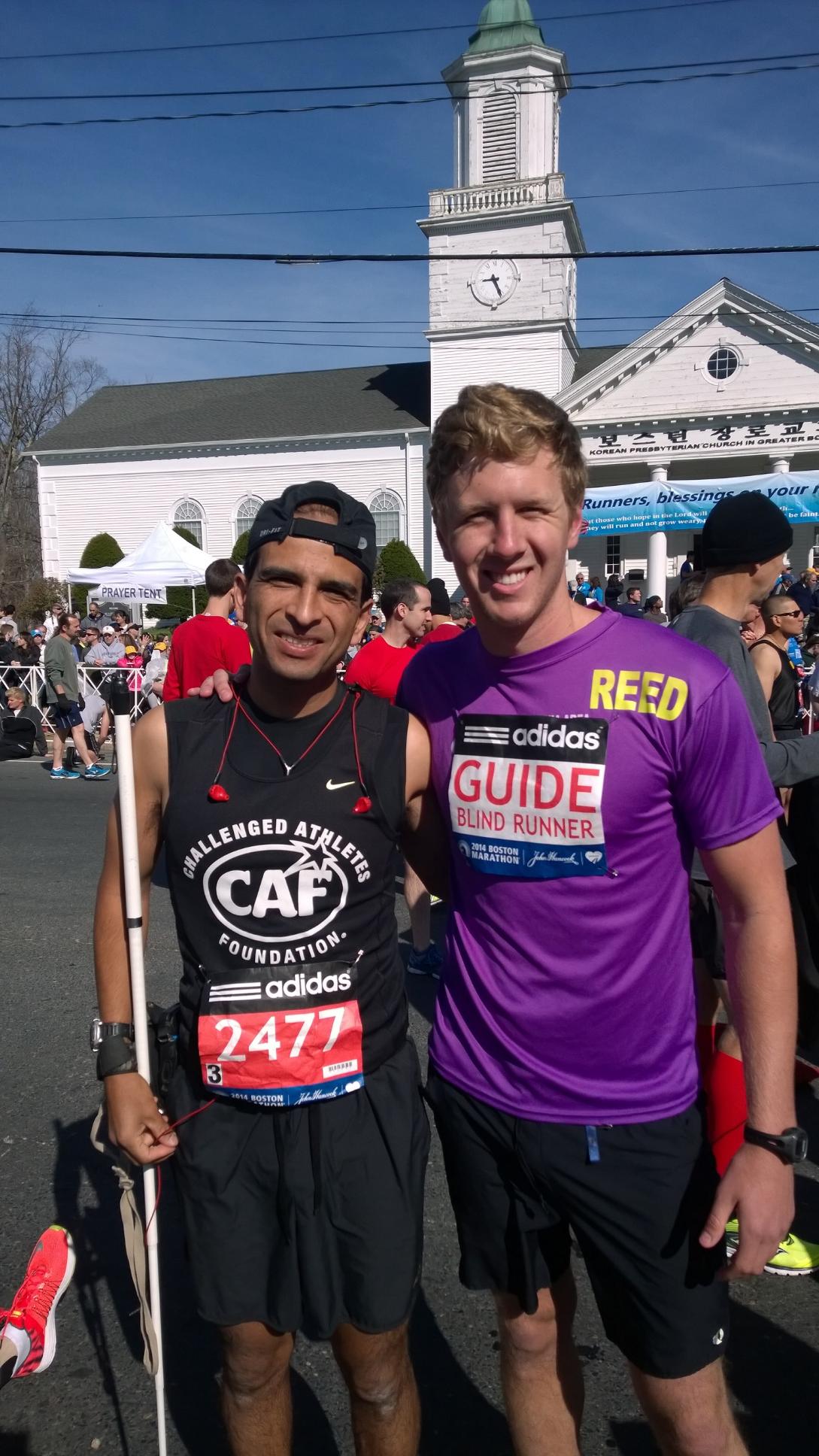 run his eighth Boston Marathon.
"He is totally selfless and puts everything aside to help me," said Broca. "He is really aware of the surroundings."
Broca's blindness resulted in 1994 from a genetic disorder. He stopped running for a brief period, but returned to win the Boston Marathon Visually Impaired Division in 2010 and 2007 with times of 2:57:59 and 3:00:12, respectively. The course record for the division is 2:33:20.
He finished with a time of 2:58:42 Monday.
Semcken (pictured, right, with Broca at the Boston Marathon) called the experience a once-in-a-lifetime opportunity and dream come true.
Blind runners are guided by a guide's voice, some use a tether system that connects the two runners. Broca and Semcken use a string tied to each of their wrists.
"He is a better runner than I am," Semcken said. "You almost forget your running a visually impaired runner.
"Getting to meet Adrian and seeing how great of a guy he is, you just want to help him out."