A man whose body was found in the back of a burned sport utility vehicle in Rancho Palos Verdes was identified Wednesday as 42-year-old Christopher Waters of Long Beach.
Waters' body was found during a call of a vehicle fire on Tuesday about 2:30 p.m. in the 30100 block of Miraleste Drive.
The cause of death has not been determined. Until an official cause of death is determined, Los Angeles County Sheriff's detectives were treating the case as a suspicious death.
The Los Angeles County Coroner had to use Waters' fingerprints to identify his charred remains.
Waters' stepmother spoke with NBC4 Wednesday night, saying she last saw the 42-year-old on Thanksgiving.
Beverly Lesman Waters raised Christopher since he was 8 years old, and said he was in an out of rehab for drug problems.
"He was in rehab but he was allowed to go for Thanksgiving dinner," Lesman Waters said. "At the time, he seemed like he was OK, but he's been OK then gone back to addiction, so I don't know."
Lesman Waters said her son, a chiropractor, lives in Long Beach and was much closer to Christopher.
Aerial video showed crime scene tape blocking off a small basketball court where a burned white SUV (pictured below) was parked.
Anyone with information about this incident is encouraged to call (323) 890-5500.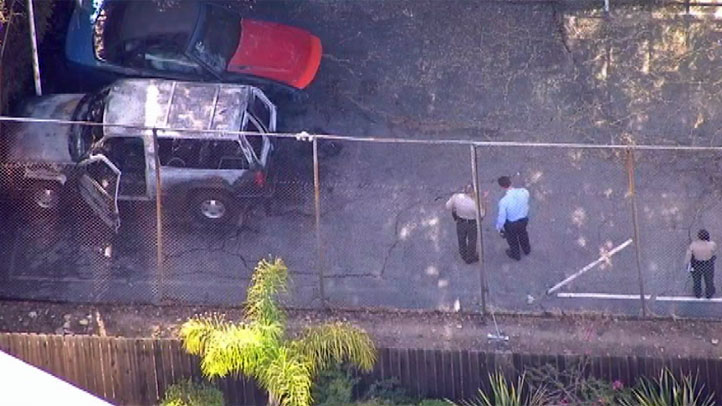 Published at 4:04 PM PDT on Apr 24, 2013 | Updated at 12:25 AM PDT on Apr 25, 2013