The family and friends of a South Bay woman who has just one month to find a bone marrow donor has taken their cause national in a big way.
Billboards were posted this week in cities across the country – including in New York's Times Square – in support of Nina Polvanich Louie, a 32-year-old mother of a 2-year-old son.
Louie, pictured below, was diagnosed with lymphoma last fall and has struggled to find a donor, in part because of she's of Asian ancestry. That's because fewer non-white donors are on the national donor registry, so there's a smaller pool of potential matches for Louie.
The Manhattan Beach woman has been in chemotherapy for months and dreaded going public with her disease. But she said she got to a point where she needed help.
"It's just the most devastating, shocking news. I never imagined that this would be a possibility," Louie told NBC4 earlier this month. "I think my first thought was around my family, and especially my son. Who would take care of him? Who would pack his lunches? Who would be there to pick him up from school, help him when he cried?"
So her family and friends embarked on a drive to get 20,000 people – especially potential donors who are Asian – registered in hope of finding a donor. So far, none of the 10.5 million potential donors have been a match for Louie, who is of Chinese and Thai descent.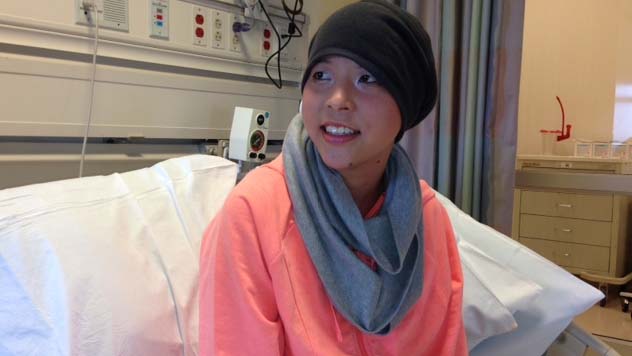 On Wednesday, the Save Nina Facebook page posted that more than 100 billboards had gone up in LA, Dallas, Phoenix, Portland, Boston, Baltimore, Gainesville, Tampa, Orlando, Cleveland, Detroit New Jersey and New York.
A digital billboard even went up in New York City's Times Square, one of the world's busiest tourist attractions.
The billboards state: "Nina has 1 month to find a bone marrow donor. Please help." There's a link to the SaveNina.com website too.
HOW TO HELP: Register to be a donor | Get a free home-typing kit | Attend an LA marrow drive
There is a small pool of non-white donors in the national database. White donors comprise about 67 percent of the donor registry, followed by Latino donors at about 10 percent, according to data from the National Marrow Donor Program.
Because bone marrow donation requires a close genetic match, the more similar the ethnic makeup, the easier it is to find a perfect donor.
Louie is one of about 720,000 Asian donors -- about 7 percent of the total -- listed on the national registry. She signed up 15 years ago, when she was a freshman at Stanford University.
Now undergoing chemotherapy treatments at UCLA, Louie received an email from the National Bone Marrow Registry last month alerting her that she was a match for someone.
"But when I called them to ask, it was actually that I was a donor match for myself," Louie told NBC Bay Area.
About 2 percent of Americans are registered in the national bone marrow database.
Healthy adults between the ages of 18 and 44 can join the registry for free by taking a cheek swab test. There is a $100 fee for anyone between ages 45 and 60 who wants to join the registry, which helps offset donors' travel and medical costs.
Of the roughly 10.5 million national registry members, 1 in every 540 will go on to donate marrow.
"Not a lot of people understand that you could save a life just by swab of the cheek," said Louie. "You could save a life."
NBC4's Hetty Chang contributed to this report.