Four Southern California men who were charged with plotting to kill Americans and destroy U.S. military bases abroad detailed the ways in which they wanted to commit "violent jihad" in Afghanistan, according to FBI officials.
The identities and charges against the Inland Empire men, accused of planning to join al-Qaida and the Taliban, were announced Monday.
The charges were made public in a press release late Monday from André Birotte Jr., the United States Attorney in Los Angeles, and Bill Lewis, the assistant director in charge of the Federal Bureau of Investigation's Los Angeles Field Office.
Lewis and the special agent in charge of the Counterterrorism Division in Los Angeles, David Bowdich, took questions from media Tuesday afternoon at the bureau's Westwood office, as seen below. But they would only go over what was covered in a federal complaint unsealed Monday.
LA Imam: Alleged Terror Plot "Is Not Islam"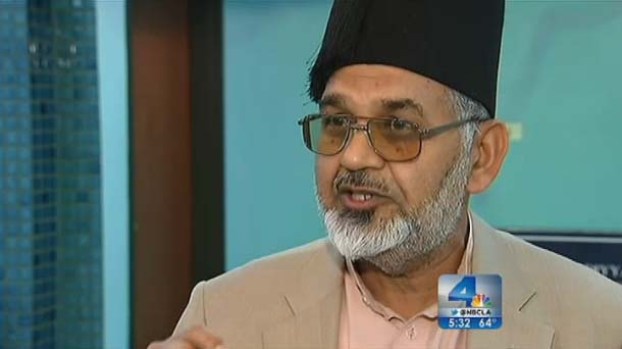 "The complaint alleges that the defendants indicated they were willing to kill what they considered to be the enemy, and even discussed their preferred roles, including being a sniper or working with explosives," Lewis said.
The complaint states 34-year-old Sohiel Omar Kabir of Pomona in 2010 introduced two of the other men to the radical Islamist doctrine of Anwar al-Awlaki, a deceased al-Qaida leader. Kabir, a naturalized U.S. citizen who was born in Afghanistan, served in the Air Force from 2000 to 2001.
Kabir was "basically a mujahid walking the streets of LA,'' said suspect 23-year-old Ralph Deleon of Ontario, using the term for holy warrior, according to court documents. "He was just waiting to get his papers. And I met him at the point of his life where he was about to go.''
SoCal Men Allegedly Wanted to Commit "Violent Jihad"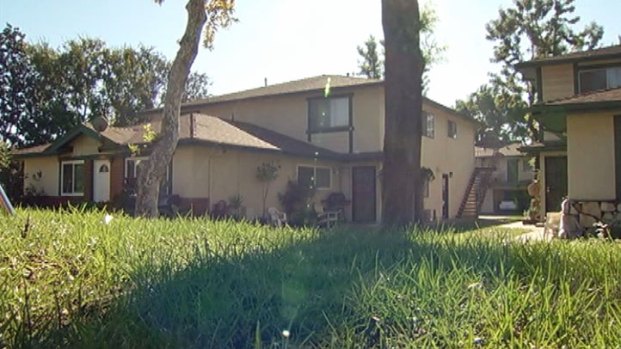 Deleon and 21-year-old Miguel Alejandro Santana Vidriales of Upland converted to Islam and began engaging with Kabir and others in discussions online about jihad, according to the affidavit. The suspects allegedly posted radical content and expressing extremist views on Facebook.
They recruited 21-year-old Arifeen David Gojali of Riverside in September 2012, according to the affidavit.
Deleon, Santana and Gojali were arrested Friday during a traffic stop outside a Chino apartment complex, FBI officials said.
Court Docs Reveal New Details in Alleged Terror Plot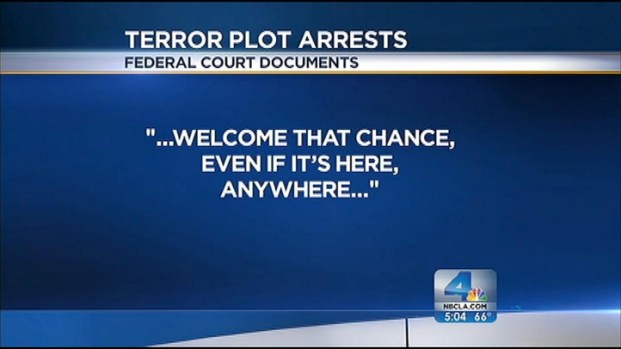 Santana was born in Mexico, while Deleon was born in the Philippines. Both are lawful, permanent U.S. residents, and Santana had pending citizenship, the affidavit states. Gojali is a U.S. citizen.
Kabir allegedly traveled to Afghanistan in July and encouraged Santana and Deleon to join him, later arranging for their travel to the county. Kabir said they would join "the students" – referring to the Taliban – then join "the professors," meaning al-Qaida, according to the affidavit.
In early November, Kabir allegedly made arrangements for the other suspects travel to Afghanistan, but warned them that they might have to wait in Kabul before being accepted by a jihadi group.
Expert: "Home-Grown Terrorists" Hard to Profile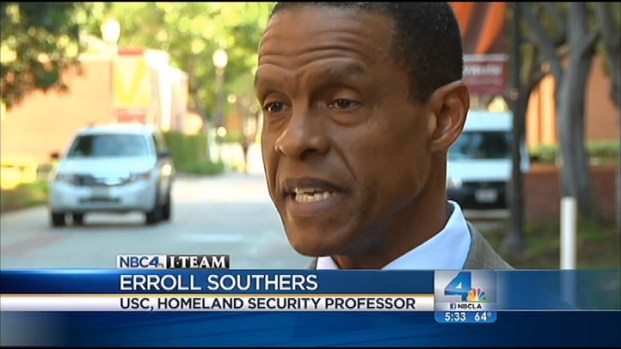 "It took me like two months, man, for them to even take me," Kabir said, according to the affidavit.
Gojali told Deleon, "This s*** just got real, son," the affidavit states.
The accusations against the suspects are the result of two-year undercover federal investigation that employed an FBI confidential source, the affidavit states. The source had been convicted of trafficking in pseudoephedrine and has since received more than $250,000 in payments from the U.S. government for 4 1/2 years of "credible and reliable information," according to the affidavit.
Santana and Deleon told the source about possible U.S. targets and the ways they wanted to commit jihad, according to the affidavit. In September, the source went to an LA shooting range with Deleon and Santana. Another time, the source went to a paintball facility in Corona with the pair and Gojali.
On another trip to a shooting range where the suspects practiced using assault rifles, Deleon "remarked that he should have been preparing to go to Afghanistan five years ago," according to the affidavit.
Coming home from that shooting session, Santana said he had always looked for violence and tried to fit in with groups, including gangs, the affidavit states. Santana allegedly said he hoped Islam would let him "fit in and actually be able to fight for something that's right."
The suspects last week purchased tickets to fly from Mexico City to Istanbul on Sunday, and allegedly had plans to continue on to Kabul, Afghanistan. They were arrested Friday by the Riverside Joint Terrorism Task Force, which includes local public safety agencies in Riverside and San Bernardino counties, the U.S. Immigration and Customs Enforcement – Homeland Security Investigations, the U.S. Attorney's Office and the FBI.
Kabir was arrested in Afghanistan, where he is being detained.
The other three appeared for a detention hearing Monday in federal court in Riverside, and all but Gojali were remanded to federal custody with no bail. Gojali's detention hearing was delayed to Nov. 26.
A preliminary hearing is slated for Dec. 3, and an arraignment is set for Dec. 5.
The defendants are charged with conspiracy to provide material support to terrorists. If convicted, each defendant faces a maximum of 15 years in federal prison.
Calls left by the Associated Press for the men's attorneys were not returned.
FBI spokeswoman Laura Eimiller said the agency could not confirm the accuracy or legitimacy of photos posted on Facebook that are said to depict the suspects. Those images have been circulated in the news media.
The FBI does not release booking photos unless they are seeking fugitives, according to Eimiller, who works in the bureau's Los Angeles office.