From his perch on the couch in his Anaheim living room, Mike Gomez will be glued to the TV on Saturday to watch his beloved UCLA Bruins take on the USC Trojans in one of the most heated rivalries in college football.
"Anxiety … excitement … to me, this is like our championship game," said Gomez, a 44-year-old electrical controls engineer, who got bit by the Bruins bug in the early 1990s. "It's all or nothing."
USC fan Roy Nwaisser, who sent NBC4 the photo below, is confident his team will win.
"I'm more excited than I've been in a long time," said Nwaisser, who has spent the last three years extolling the virtues of his team on Twitter under the handle @uscpsycho. "But there is no nervousness at all.
"I can't wait for kickoff. But I can't wait for kickoff because we're going to destroy them."
The excitement, the confidence, and the nervousness underscores the mood as some 90,000 fans are expected to make their way to the Rose Bowl in Pasadena to a tradition dating to 1920s.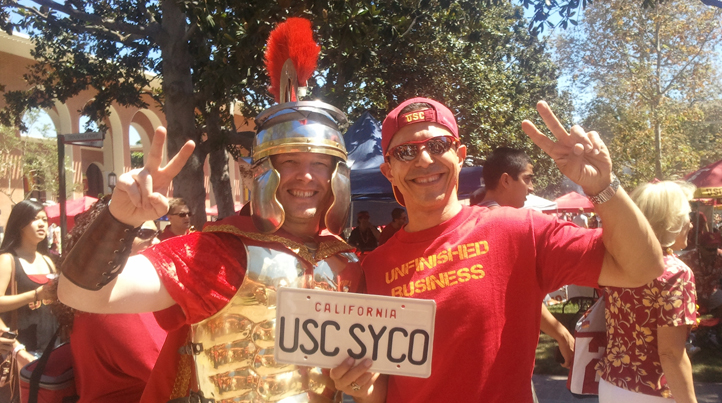 The game takes on added tension this year as USC was recently barred from practicing its pre-game tradition of having Tommy Trojan stab the field with a sword.
It will also be the first game played at the Rose Bowl since 2010, when two people were stabbed in an alcohol-fueled fight outside the stadium before the game between groups of tailgaters when a football tossed by a Bruin fan accidentally hit a Mercedes-Benz owned by a Trojan fan.
Police planned to beef up patrols, sweeping through parking lots to enforce public drinking laws after kickoff.
"There'll be zero tolerance for any individuals who come to the Rose Bowl to incite any type of violence," said Lt. Phlunte' Riddle, a spokeswoman for the Pasadena Police Department. "It should be a great fan experience.
"The Police Department is absolutely committed to ensuring that people have a great experience."
The Los Angeles County Probation Department said its officers would be at the game for the first time helping to "detect and dissuade criminal behaviors," according to a press release. Two teams of probation officers will work with Pasadena police, patrolling tailgate parties before the game.
Officials are urging fans to arrive early and suggesting that motorists carpool or use shuttle buses or public transportation. Stadium parking lots will open six hours before kickoff.
It's a high-stakes game. Not only will the winner take home bragging rights with the Victory Bell, but both sides want to win badly.
UCLA fans want to save face after being crushed by the Trojans during the duo's last matchup in 2011.
Hungry USC fans are eager to get back into Bowl competition after being disqualified three years ago for breaking NCAA sanctions.
Knowing the heat's on, police, public officials and even players have taken to the Web to urge fans to play nice.
"This Saturday's game against SC is going to be awesome," said UCLA quarterback Brett Hundley, in his YouTube message on the team's website. …" as heated as this rivalry can get, we need you to respect the Trojans and we need you to respect their fans. Thank you. Go Bruins."
Published at 1:34 PM PST on Nov 16, 2012 | Updated at 11:03 PM PST on Nov 16, 2012