Dignitaries, law enforcement, family members and strangers on Thursday lined the roads and filled a huge memorial hall to bid a mournful goodbye to two Santa Cruz police officers killed in the line of duty.
The crowds were there for Sgt. Loran "Butch" Baker and Det. Elizabeth Butler, a Los Angeles native who came to Santa Cruz in college.
The two officers were killed Feb. 26 when they were investigating sexual assault allegations against Jeremy Goulet, 35. Twenty minutes into the interview with the pair of police, sheriff's deputies say he pulled out a .45-caliber handgun and shot them to death. His criminal record shows a string of sexual assault arrests, and his father had called Goulet a "ticking time bomb."
The officer deaths were the first of their kind in Santa Cruz's 150-year history.
The three-hour service at HP Pavilion in San Jose - attended by dignitaries including Gov. Jerry Brown - began with silence, and then a somber march of family down the aisle as bagpipes wailed in the background.
"For all of us, the pain is too fresh," Santa Cruz Police Chief Kevin Vogel told the crowd. "There are no words that can heal us. No fixes to ease the pain."
He cited Butler's "compassion" and Baker's "counsel and passion for the job."
As his former partner, Vogel said he often turned to Baker for advice and help.
"I loved them both dearly, " Vogel said in an emotional closing. "I will miss them both forever." (Watch raw video here).
Former CIA Director and Defense Secretary Leon Panetta, who lives in Monterey, then addressed the city of Santa Cruz, a city he had served as a U.S. congressman from 1977 to 1993.
He called Santa Cruz a "little offbeat," but "always, always, a place where people could enjoy life" and feel safe. Panetta then credited the officers for their work, and said their lives were "shattered by a sense of senseless violence." (See raw video here).
The bullets that killed them, Panetta said, "ripped the fabric of our community." He said there is no way to understand "what the killer did," in what can be described as an "act of execution."
He then made a plea to the public: If ever, people see a person with troubling tendencies - like Goulet, who had a history of violence and sexual assault - they should not turn away, they should seek help for those people so that innocent victims do not have to be harmed.
"God bless all of those who fight to keep us safe," Panetta said.
Before the service, slideshows of both families were shown on a big screen, showing Butler as a loving mother to her two young boys, 5-year-old Joaquin and 2-year-old Stellan, along with her partner, Peter Wu.
Images also showed Baker kissing his wife, Kelly, and feeding her cake at their 1970s-style wedding. The couple had been childhood sweethearts. Family photos showed the Bakers at birthday parties and a Giants game at AT&T Park.
Sgt. Butch Baker
Baker, a 1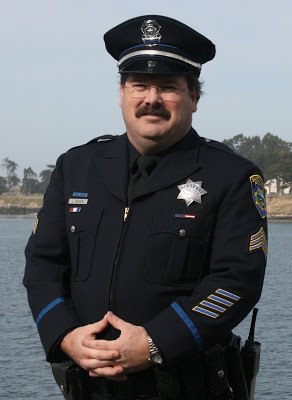 979 graduate of Bellarmine Preparatory School in San Jose, leaves behind his wife, two daughters, Jillian and Ashley, and a son, Adam, who was a community service officer for the police department.
Vogel had called him the "best investigator" in the office, and cited Baker's love for the Giants and a good prank.
Santa Cruz Deputy Police Chief Steve Clark said his longtime friend would "always take a serious situation" and "ruin it by making you laugh." Baker used to be a used car salesman, a career on which he drew skills to make suspects talk and "confess to stuff," Clark said. (Watch raw video of Clark's eulogy here).
And Santa Clara County Chief Deputy District Attorney Jeff Rosell described Butler as the ultimate multi-tasker: He could take a date and turn it into a detective's hunt. Rosell told of one time when Baker took his wife for a supposed romantic walk along the shoreline north of Santa Cruz and she noticed him smelling something in the air. He later admitted to her that he was trying to see if he could find a dead body in the area. He said he choose that rocky shoreline for the walk because he thought the killer had dumped the body at that location.
Det. Elizabeth Butler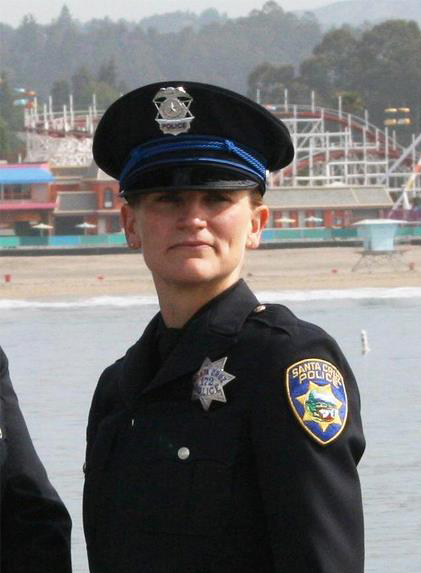 Butler is a Los Angeles native and graduated from Bishop Montgomery High School in Torrance in 1992. She then attended UC Santa Cruz and earned a degree in community studies four years later and ended up staying in the beach side city.
Before that, she had worked as a patrol officer, hostage negotiator, and an agent assigned to the Santa Cruz County drug task force.
Her sister, Alexis Butler, a film teacher in Culver City, took the podium at the service, talking about how her younger sister loved food, to win a game and to solve a mystery.
Through tears, Butler recounted one of the last times the two spent together last month, eating a lemon tart and trying the free samples at a spa. She called her sister the beautiful "willowy" one who loved to dance and enjoyed a good party.
One of most touching moments, however, is when Butler's son, Joaquin, came up to the podium -with his dad and Butler's partner, Peter Wu - wearing his mom's police cap. "Hi," the young boy said simply, but poignantly, to the crowd.
Wu's speech was also simple but emotional.
"Elizabeth, my love," he began. He said he will always remember his beloved in spirit, adding that her "memory will always be my guiding light."
Hours before the funeral, crowds of friends and strangers lined up along the processional route from Santa Cruz to San Jose. Tim Shae, who called himself a "regular guy," stood alongside Highway 17 early in the morning, holding a sign for the officers.
James Campbell, a videographer from San Jose, also came out to show his support for officers he never knew. "I just want to pay tribute," he said. "This is very emotional."
As to why strangers would have taken time off to pay tribute for the officers, retired Saratoga firefighter Ken Colson said: "It's a gift. It's the only gift we can offer."
FULL LINEUP OF MEMORIAL SPEAKERS: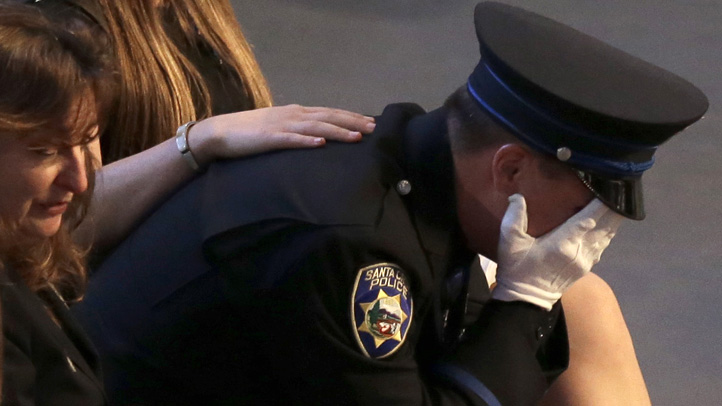 Santa Cruz Colors Honor Guard, Welcome by Pastor Rene Schlaepfer, Remarks by Santa Cruz Police Chief Kevin Vogel. Dignitary remarks by former Defense Secretary Leon Panetta, Attorney General Kamala Harris, Mayor Hilary Bryant, Santa Clara County Supervisor Zach Friend, and eulogies by Santa Cruz Deputy Police Chief Steve Clark , sister Alexis Butler and Butler's partner, Peter Wu. There will also be readings by Jillian Baker, Rudy Escalante, Wendy Bynes, and Jeff Rosell. James Durbin will sing "Arms Wide Open."
To Watch raw video of Santa Cruz Police Chief Kevin Vogel:
To Watch Raw Video of Leon Panetta:
Watch Raw Video of Deputy Police Chief Steve Clark:
Watch raw video of "End of Watch" radio call and caskets leaving arena:
Related stories:
NBC Bay Area's Kim Tere contributed to this report.
Contact Lisa Fernandez at 408-432-4758 or lisa.fernandez@nbcuni.com.
Published at 8:24 AM PST on Mar 7, 2013 | Updated at 6:05 PM PST on Mar 7, 2013