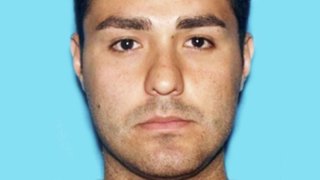 The following is a timeline of events in the case of Henry Solis, a former Los Angeles Police Department officer accused of shooting and killing a 23-year-old man in March 2015 in the Southern California community of Pomona.
June 4, 2015: Solis, accompanied by law enforcement agents, returns to Southern California from Texas to face arraignment on murder and other charges.
June 3, 2015: Authorities in Los Angeles County announce that Solis will be transported "soon" to a local jail.
May 26, 2015: Authorities announce the arrest of Solis in northern Mexico. He is deported to the U.S.
March 20, 2015: The FBI announces a $25,000 reward for information leading to the capture of Solis.
March 19, 2015: A federal warrant for Solis' arrest is issued. It alleges Solis got into a physical altercation in downtown Pomona, then "pursued Rodriguez on foot and shot him multiple times, killing him."
March 17, 2015: Solis' employment with the Los Angeles Police Department is terminated.
March 14, 2015: Solis and his father are captured on surveillance video as they crossed the U.S.-Mexico border. The father is arrested later that month.
March 13, 2015: Salome Rodriguez Jr., 23, is gunned down after a fistfight at a Pomona nightclub.
June 2014: Henry Solis joins the Los Angeles Police Department.
Correction: An earlier version of this timeline incorrectly listed the date of the shooting in Pomona. The timeline now reflects the correct date.