Defense attorneys for two Fullerton officers accused in the beating death of a 37-year-old man at a transportation center last summer continued Tuesday at a preliminary hearing to question the actions of responding paramedics.
Kelly Thomas Case: Timeline, Surveillance Video
During a second day of testimony in the hearing, attorneys for Officer Manuel Ramos and Cpl. Jay Cicinelli questioned witnesses about the paramedics' treatment of Kelly Thomas.
"It's just placing the blame," said Thomas' father, Ron Thomas. "They're not addressing the real issue of the beating."
Warning Graphic Content: Kelly Thomas Beating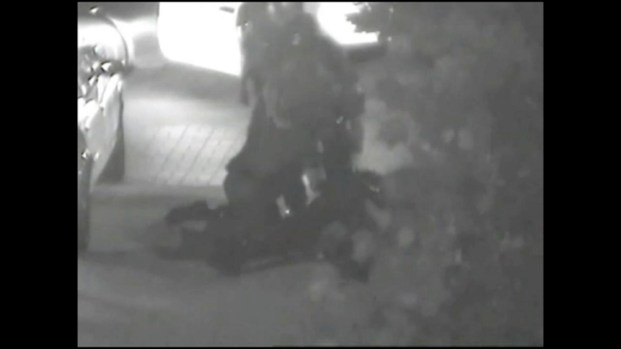 Kelly Thomas died five days after the beating.
Defense attorneys also questioned a pathologist on the cause of Thomas' death. They wanted to know if it was possible Thomas died of an enlarged heart.
"Was there cardiac pathology to support a natural death?" attorney John Barnett asked.
Ron Thomas on Video of Son's Beating: It's Going to Be Brutal for You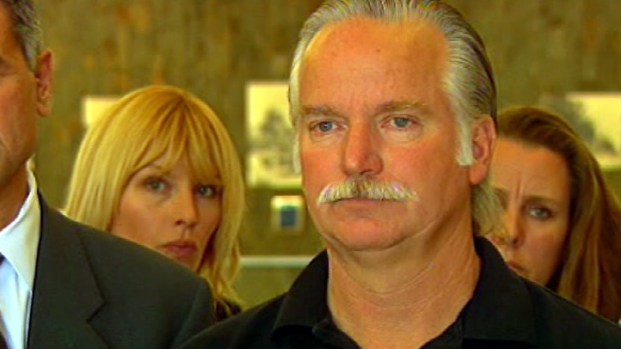 "No, not really," said Orange County coroner pathologist Dr. Aruna Singhania, who said there were many factors which contributed to the death.
Singhania listed the injuries she found on Thomas' body, including seven on his face, more on his face, shoulders, chest and both knee caps, and a hemorrhage in his right eye.
One of the autopsy photos showing the bruises on Thomas' back drew a gasp from the courtroom.
Ultimately, Kelly Thomas died because of the force of the officers' compression on his chest, according to the District Attorney. The pressure made it impossible for Thomas to breathe, according to the DA's report.
Ron Thomas' attorney believes Kelly Thomas suffocated from his own blood.
"When they kept him on his back as long as they did, he couldn't spit up that blood, so it killed his brain," said attorney Garo Mardirossian.
In transportation center surveillance video played for the court Monday, Thomas can be heard screaming, "I can't breathe."
UC-Irvine trauma surgeon Dr. Michael Lekawa testified Tuesday that Thomas suffered from hypoxia -- the body as a whole or a region of the body wasn't getting enough oxygen.
"Cardiac arrest and all the things that can lead to cardiac arrest can cause inadequate blood flow to the brain, or you can have the heart working and simply not have enough oxygen," Lekawa said.
Officer Manuel Anthony Ramos is charged with second-degree murder and involuntary manslaughter. Cpl. Jay Cicinelli is charged with involuntary manslaughter and excessive force in connection with the July 5 beating.
The preliminary hearing will determine whether the two officers will stand trial in Thomas' death.
The 38-year-old Ramos, a 10-year Fullerton police veteran, is free on $1 million bail, one of the highest ever posted in Orange County. Cicinelli, 42, is free on $25,000 bail. Both are on unpaid administrative leave.
The video on which Thomas can be heard calling for his father included audio from recording devices worn by the officers. It was played Monday during the first day of the preliminary hearing, and the judge paused the video amid sobs in the courtroom to ask whether anyone would like to leave.
When charges were announced last year, District Attorney Tony Rackauckas said the video was just one piece of evidence used to determine whether charges should be filed. Monday marked the first time the video was shown in public, but Thomas' father had seen the video before the hearing.
He had not heard a responding a responding paramedic's account of what happened when he arrived at the transportation center.
"All the police round him were worried about little Band-Aid scratches, not my son dying,'' he said Monday, referring to Fullerton Fire Capt. Ron Stancyk's testimony that officers did not immediately direct him to Thomas.
The audio-video recording depicts events at the Fullerton Transportation Center on July 5, 2011 from 8:46 p.m. to 9:20 p.m. At the beginning, Officer Manuel Ramos can be seen twirling his baton, asking Kelly Thomas what language he's speaking.
Officers question Thomas about the contents of his backpack and said they found documents belonging to an attorney. About 15 minutes later, Ramos puts on latex gloves and issues orders to Thomas.
Ramos: "Now you see my fists?"
Thomas: "Yeah, what about 'em?"
Ramos: "They're getting ready to 'f' you up."
Thomas: "Start punching dude."
About 30 seconds later, Kelly Thomas is struck with batons. The batons and a stun gun that Rackauckas said was used by Cicinelli were presented as evidence at Monday's hearing.
Thomas can be heard screaming on the video: "Dad, they're killing me. Dad, dad."
Ramos faces a potential sentence of 15 years to life if convicted of second-degree murder but only four years if convicted of involuntary manslaughter. Cicinelli faces a maximum sentence of four years in prison.
Both pleaded not guilty.
At a pre-trial hearing in December, Ramos' attorney said the officer used "only that force that was necessary" to restrain "a non-compliant suspect."
Four other officers who responded to the bus depot were not charged.
Follow NBCLA for the latest LA news, events and entertainment:iPhone/iPad App | Facebook| Twitter | Google+ | Instagram | RSS | Text Alerts | Email Alerts