The Lakers signed five-time NBA champion Kobe Bryant to a two-year contract extension -- a deal that will likely make him a Los Angeles Laker for the remainder of his NBA career, the team announced in a news release Monday.
More Lakers Coverage: Triple Threat
Bryant has been sidelined this season after suffering a torn left Achilles tendon seven months ago. He received medical clearance to play earlier this month.
The signing ends speculation that Bryant would finish his career with another team.
"This is a very happy day for Lakers fans and for the Lakers organization," said Lakers General Manager Mitch Kupchak. "We've said all along that our priority and hope was to have Kobe finish his career as a Laker, and this should ensure that that happens.
Terms of the deal were not released.
Bryant has played his entire 17-year career with the Lakers. The 15-time All-Star has led the team to post-season appearances in all but one of those seasons.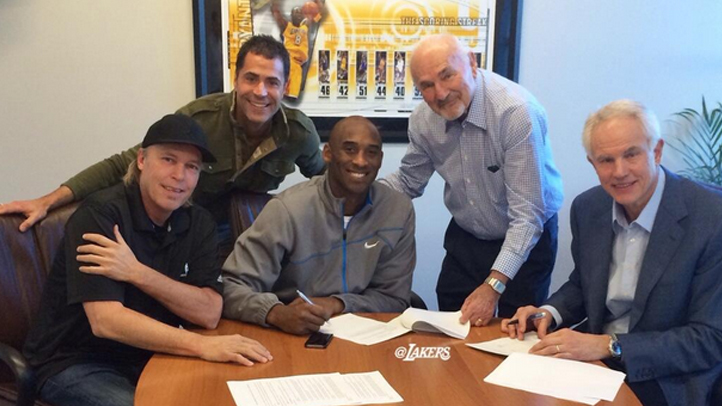 He was originally acquired by the Lakers from the Charlotte Hornets in exchange for Vlade Divac in the 1996 NBA Draft. He was the draft's 13th overall pick.
"To play 20 years in the NBA, and to do so with the same team, is unprecedented, and quite an accomplishment," Kupchak said. "Most importantly however, it assures us that one of the best players in the world will remain a Laker, bringing us excellent play and excitement for years to come."
Bryant is the Lakers all-time leading scorer and currently ranks 4th on the NBA's all-time scoring list.
There is no timeline for Bryant's return to the lineup, but he returned to practice earlier this month. He said last week that he wants to make sure he is prepared for the grind of an NBA season before he returns.
More Southern California Stories: