Elderly twin sisters who spent their youths in the entertainment business in LA have died and left no known relatives, leaving officials scrambling to find a next of kin.
The bodies of Joan and Patricia Miller, both 73, were discovered in their South Lake Tahoe home on Feb. 27, according to the sheriff's department in El Dorado County.
Authorities say the sisters most likely died within a short time of one another of natural causes. They had been dead for several weeks before they were discovered.
The Millers came from a family who made a living in the entertainment business, including a mother who played piano. Among the items found in the home was a photo of the twins as young girls sitting on Bing Crosby's lap, according to the LA Times.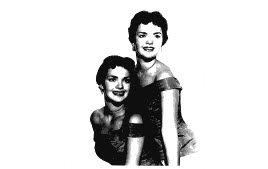 Detectives said the twins were also in the entertainment business themselves when they were young. They performed with singer Spade Cooley on "The Hoffman Hayride" show every weekend at the Santa Monica Pier. Their performances were broadcast live on KTLA television in the 1950s.
Officals broke protocol this week and released the names of the women without notifying their relatives-- because no realtives could be found. Apparently throughout their lives, the sisters always listed each other on all official forms.
Investigators gathered a few details from Tahoe acquaintances and are hoping they lead to family members.
The twins were born in Portland Oregon, never married and were dependent on one another for their entire lives.
They also may have a sibling in the Bay Area and may have other relatives in Portland.
Anyone with information regarding Patricia and Joan Miller is asked to contact Detective Matt Harwood at 530-573-3015.
Follow NBCLA for the latest LA news, events and entertainment: Twitter: @NBCLA // Facebook: NBCLA
Published at 3:21 PM PST on Mar 6, 2012 | Updated at 3:24 PM PST on Mar 6, 2012