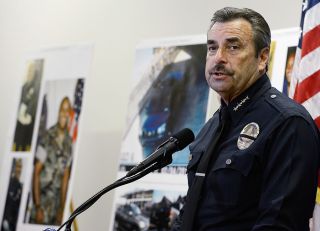 Los Angeles saw 59 homicides this summer -- far fewer than is typical for the three-month period.
Other than 2014, when the city also recorded 59 homicides, it was the fewest killings in a single summer since 1966, the Los Angeles Times reported.
Two years ago, the month of August was the deadliest the city had seen in years, which alarmed the Los Angeles Police Department, according to the newspaper.
Hoping to slow the bloodshed, top officials at the LAPD retooled their crime-fighting strategies, sending extra officers to the neighborhoods hit hardest, looking for guns and focusing on gang-inspired violence. This summer, those changes finally paid off, police Chief Charlie Beck said in remarks reported by The Times.
L.A. saw a total of 59 homicides in June, July and August, Beck said. In recent years, the city's summer homicide tally typically has been in the 70s or 80s, according to a Times review of LAPD data. A decade ago, there were 116 homicides during the summer. Last year, there were 82.
Beck said 59 homicides are "far too many." But, he added, "that's a pretty significant accomplishment for this city to have a summer that was that safe."
Published at 8:37 AM PDT on Sep 13, 2017