Los Angeles Rams cornerback Nickell Robey-Coleman has had quite the week.
After the infamous non-call pass interference in the NFC Championship Game last Sunday in New Orleans, Robey-Coleman found his way back into the headlines this week as he continues to surround himself with controversy.
On the heels of his revelation that he received death threats against himself and his family following the penalty that never was, Robey-Coleman found himself in hot water again after a Bleacher Report article published some bulletin board comments about Tom Brady.
"Age has definitely taken a toll," said Robey-Coleman, in the article. "For him to sill be doing it, that's a great compliment for him. But I think that he's definitely not the same quarterback he was.
"Movement. Speed. Velocity. Arm strength. He still can sling it, but he's not slinging it as much," Robey-Coleman continued. "Whatever he was doing — because of his age and all that — he's not doing as much of that anymore. He's still doing the same things; he's just not doing as much of it. And sometimes, it's not the sharpest. But it still gets done."
Robey-Coleman is not just another cornerback lining up against Brady in the Super Bowl. The 27-year-old played against Brady eight different times over the span of four seasons with the Buffalo Bills (2013-2016). His team was 2-6 in those games, but he still has some experience going up against the G.O.A.T.
Super Bowl 53 Opening Night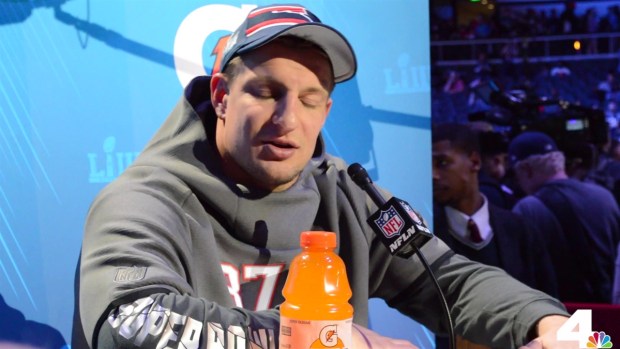 The comments led many to speculate that Brady could use Robey-Coleman's comments as fuel to ignite him during Super Bowl LIII on Sunday in Atlanta.
Others suggested that Brady would light Robey-Coleman up like Christmas tree, the way he famously targeted Lions cornerback Alphonso Smith in a game after he gave Brady the Dikembe Mutombo finger wag.
"You've got to make sure who you pick a gunfight with," said Smith after he was torched by Brady to the tune of two touchdowns after the finger wag. "Tom Brady and (Bill) Belichick is not the guys that you should pick a gunfight with, especially being in your second year in this league, which means you know nothing. I was one of those young guys that didn't know anything. Chose to get in a gunfight with John Wayne and some other famous old Western guy."
Another Brady victim was Steelers safety Anthony Smith, who once guaranteed a victory over the undefeated Patriots during the 2007 season when they met in Week 14.
The Pats were 12-0 at the time, and on their way to a perfect regular season. However, that didn't stop Brady from hearing the victory proclamation, and then throwing for 399 yards including two big touchdowns at Smith.
So possibly, with those examples on his mind when he woke up on Monday morning, Robey-Coleman walked back his comments during Super Bowl 53 Opening Night at the State Farm Arena.
"The words were taken out of context," explained Robey-Coleman. "That's how the story was created. I just gave the man a great compliment. I wasn't trying to clown his age. I wasn't trying to do nothing like that. They exploited that. It was a question that was set up in a way and he created the question how he wanted to. I'm just moving on from the situation. I addressed his age, but it wasn't about his lack of performance or his lack of skills."