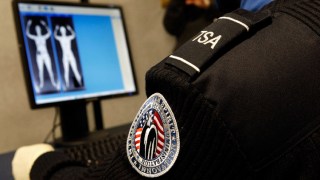 Transportation Security Administration officers made a furry find at Los Angeles International Airport Wednesday afternoon when an X-ray machine revealed a passenger's pet cat inside his checked bag.
The discovery was made after a JetBlue passenger placed his bag, which was not a pet carrier, through an X-ray machine in Terminal 3, according to LAX Police Department spokeswoman Sgt. Belinda Nettles.
TSA officers removed the cat from the bag and determined that it had not been harmed by the machine.
The passenger told a TSA supervisor that he did not know animals were not supposed to be placed through the X-ray machines, Nettles said.
The cat's discovery gained social media attention after several passengers in the terminal tweeted about the event.
Standing in front of guy at TSA. I hand him a bin. I turn away and go through the scanner. I hear screams. HE PUT HIS CAT IN THE BIN.

— Sara Benincasa (@SaraJBenincasa) July 1, 2015
I have seen people pulled out of the TSA line for knives. Guns. I have never seen the rage of the TSA when dude just put his cat in the XRay

— Sara Benincasa (@SaraJBenincasa) July 1, 2015
Well, we all learned a lot today. The chief lesson is this: don't put your cat through an X-Ray scanner at the airport.

— Sara Benincasa (@SaraJBenincasa) July 2, 2015
Officers determined that the incident was accidental and both the man and the cat were allowed to board their New York-bound flight.
According to Twitter, a similar incident also occurred at LAX Tuesday.
I have now seen everything. A woman trying to put a live cat, no cage, through the xray thing at LAX security. Officers suddenly screaming!

— The Obvious Hiker (@ObviousHiker) June 30, 2015
Weird News Photos: Man Shoves Snake in Pants