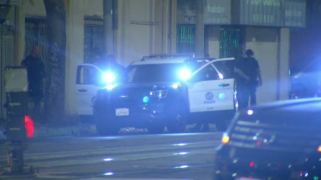 A man stabbed another man with a sword near downtown Los Angeles Wednesday morning, then barricaded himself in an apartment, triggering a standoff with the Los Angeles Police Department SWAT team, police said.
A woman was walking to her apartment in the 200 block of East Washington Boulevard with the victim around 3 a.m., said Officer Irma Mota of the Los Angeles Police Department's Media Relations Division. The assailant exited the woman's residence and stabbed the victim with a sword before returning to the apartment and barricading himself inside, she said.
The victim was taken to a hospital. His condition was not immediately reported. Mota said the suspect, his victim and the woman make up a "love triangle."
Because of the police activity, Metro Blue Line service was interrupted between the Grand/San Pedro Station and the Washington Station, and buses were brought in to ferry rail passengers through the area, Metro reported. Delays of up to 15 minutes were anticipated in the Downtown area.
Police called off the barricade situation at 1:05 p.m., according to LAPD Media Relations, but the suspect was not found.
Published at 8:20 AM PDT on Sep 13, 2017 | Updated at 2:52 PM PDT on Sep 13, 2017