A California teacher and an 8-year-old boy were killed Monday when a gunman opened fire inside an elementary school classroom.
The suspected shooter also died in what authorities say was an apparent murder-suicide at North Park Elementary School in San Bernardino.
Another student was critically wounded and flown to a local hospital, school district spokeswoman Maria Garcia said.
The shooting spread panic across a city still recovering emotionally from a terror attack at a community center just 15 months ago. On social media, reaction varied between condolences for the victims and outrage over yet another deadly school shooting.
Watch: Shooting at San Bernardino Elementary School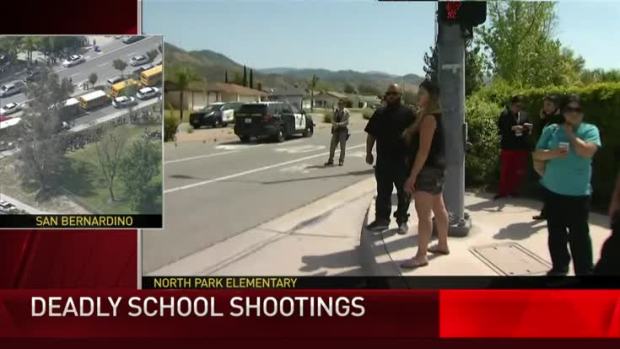 "Heartbroken to hear about shooting at San Bernardino elementary school. Even more tragic for community as it comes on heels of terror attack," Rep. Adam Schiff, D-Calif., tweeted.
"Elementary school classrooms should be safe places, full of kindness - never horror. My heart is breaking for #SanBernardino," Gabby Giffords wrote.
"If you live in CA then you know what's happening… sending love to the community of #SanBernardino," Ellen DeGeneres tweeted.
While some criticized President Donald Trump for being "eerily silent" on Twitter, others hoped the images out of North Park Elementary are able to provoke the same swift call to action that photos out of Syria did for the president.
Secretary of Education Betsy DeVos thanked "first responders, teachers and school administrators" who protected students from harms way, and appealed to "everyone to join me in keeping the victims and all those impacted by today's senseless violence in your prayers."
Dear @realDonaldTrump,

You're eerily silent about the shooting at San Bernardino elementary school. NRA took your phone?

Signed,
America

— Michael Skolnik (@MichaelSkolnik) April 10, 2017
We're failing our children, world. And our response has to be more than prayer & sentiment. #SanBernardino#Syria#Flint#Yemen#DC#Somalia

— Be A King (@BerniceKing) April 10, 2017
Anne and I send our thoughts and prayers to everyone affected by today's tragic shooting at North Park Elementary.

— Jerry Brown (@JerryBrownGov) April 10, 2017
Heartbroken to hear about the shooting in San Bernardino. I'm praying for the community and the families of those killed and injured. https://t.co/hDzeOthzh1

— Kamala Harris (@KamalaHarris) April 10, 2017
Thinking of all those affected by today's events in #SanBernardino.

— Nancy Pelosi (@NancyPelosi) April 10, 2017
If you live in CA then you know what's happening… sending love to the community of #SanBernardino.

— Ellen DeGeneres (@TheEllenShow) April 10, 2017
"Horrific images" prompted the president to act in Syria. Will he react similarly to the shooting at an elementary school in San Bernardino? https://t.co/gTcMbeIbVt

— Shannon Watts (@shannonrwatts) April 10, 2017