A woman was killed and a man was injured following a shooting at a Ventura County shopping mall Saturday afternoon.
The victim was identified as a 30-year-old woman from Thousand Oaks and the suspect was identified as a 33-year-old man from Los Angeles. The victim and the suspect are a divorced couple with two children, according to Garo Kuredjian of the Ventura County Sheriff's Office.
Around 2:15 p.m., the sheriff's department received a call of shots fired inside the Paper Source store at the Oaks Shopping Center. The victim – who was an employee of the Paper Source store – was "targeted," the sheriff's department said.
Man Shoots, Kills Ex-Wife at Work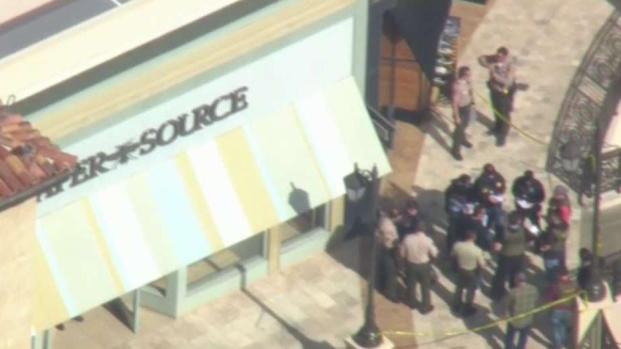 It was not an active shooter incident. The shooting is being described as an attempted murder-suicide.
Deputies found the woman dead inside the store and the suspect "gravely injured" from a gunshot wound. He was taken to a nearby hospital and a gun was recovered at the scene.
An update on the suspect's condition was not immediately available.
1 Dead, Another Injured After Thousand Oaks Mall Shooting
"The situation is contained and there is no threat to the public," the Thousand Oaks Station tweeted around 3:15 p.m.
There are no outstanding suspects, authorities said.
Shoppers ran for safety after hearing the gunshots at the mall. A man who was in the Vans store next door to the Paper Source told NBC4 he heard the shots, ran into the back room and the employees locked the doors.
Here's a video outside cheesecake factory. Cops have it surrounded with huge guns. pic.twitter.com/6Pn4pVD4DC

— Anthony ∀ Angelini (@LosAngelini) March 17, 2018
"It sounded like balloons or firecrackers … we didn't know what was going on," Dan Beaton said.
Amid the chaos, shoppers were advised they could seek safety at the VCFD Fire station 30 across the street.
The indoor portion of the Oaks Mall reopened shortly after 4 p.m. The open air portion of the mall remains closed during the investigation.