A high-profile tennis referee from Los Angeles was arrested Tuesday on suspicion of bludgeoning her 80-year-old husband to death with a coffee mug and is expected to be charged with the April murder of her husband.
Lois Ann Goodman, 70, was in New York to officiate U.S. Open tennis matches at the time of her arrest. She is alleged to have committed the crime in the Woodland Hills home she shared with her late husband, according to the Los Angeles County District Attorney's Office.
She was arrested at a Manhattan hotel where she and other referees were staying. They are in town for the U.S. Open Tennis Championship in Queens, which is in qualifying rounds this week.
At a court appearance Tuesday afternoon, Goodman waived her right to an extradition hearing, saying she wanted to return to Los Angeles as soon as possible to fight the expected charges. She was dressed in sneakers and U.S. Open attire at her appearance.
Alan Goodman's April 17 death -- at the couple's townhouse in a gated community in the 20000 block of Oxnard Street (map) -- was originally ruled suspicious by police, but investigators could not determine if foul play was involved, according to the Los Angeles Police Department.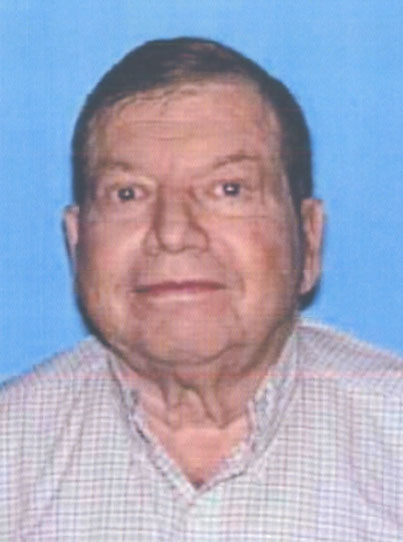 "Her story was that she came home, she found her husband dead in their bed. There was a lot of blood at the location," LAPD Detective Dave Storaker said. "She surmised that he must have had a heart attack and fallen down the stairs."
Three search warrants have been served in relation to the case in recent months. Some neighbors said they were shocked by the news of Lois Goodman's arrest, but others said their suspicions had been raised by repeated police visits after Alan Goodman's death.
A full homicide investigation eventually found on Aug. 2 that Alan Goodman, pictured at right, had been killed and his wife was the "prime suspect," an LAPD press release stated.
"There are pieces of the mug that were on his scalp," Storaker said.
A murder arrest warrant was obtained last week, but Los Angeles police had to seek help serving it from the New York Police Department once detectives realized Goodman was at the U.S. Open.
The NYPD arrested Goodman on a felony warrant charging her with her husband's murder. She was being held in a Manhattan jail, the LAPD said.
The cause of Alan Goodman's death was determined by the Los Angeles County Department of Coroner to be assault with a sharp object. Department spokesman Ed Winter called the death a "multiple sharp-force injuries homicide."
Asked if the sharp-object determination negated the coffee-mug bludgeoning allegation, Winter responded: "I don't know. It could have been a coffee mug or -- who knows -- a broken beer bottle."
Lois Goodman, pictured below in an NY Daily News photo as she walked into court Tuesday, was profiled in a 1994 article in the Los Angeles Times in which she spoke about some male professional tennis players' sexist comments and opposition to having a female referee.
"You look at players like Chris Evert and Martina, that's class with a capital C," Goodman said in the Times article. "They are just gracious. With most women we never have any problems because they are more mature."
Prosecutors plan to ask for $1 million, the District Attorney's Office said. Goodman faces life in prison.
Goodman is due back in court Sept. 4.
New York police said they would not release a booking photo.
Follow NBCLA for the latest LA news, events and entertainment:iPhone/iPad App | Facebook| Twitter | Google+ | Instagram | RSS | Text Alerts | Email Alerts