The San Bernardino County coroner's department has released the names of six people killed in Sunday's deadly tour bus crash.
The dead include Guadalupe Olivas, a 61-year-old from San Diego; Elvira Garcia Jimenez, a 40-year-old from San Diego; Victor Cabrera Garcia, a 13-year-old from San Diego; and Aleida Adriana Arce Hernandez, a 38-year-old from Tijuana, Mexico, according to the coroner's department, which released those names by late afternoon.
The fifth and sixth names were released Monday evening: Rubicelia Escobedo Flores, 34, of Tijuana, Mexico; and Mario Garcia Santoyo, 32, also of Tijuana.
"The coroner division is working to identify three other individuals killed in this collision. Their names will be released to the public after identification is verified and next-of-kin have been notified," the coroner's department had said in a statement before Flores' name was release.
Only a picture of Olivas, seen at right, was available from the California Department of Motor Vehicles.
Family Members Wait for Word on Tour Bus Crash Victims
Flowers and candles were brought to Loma Linda Medical Center where some of the victims involved in a deadly tour bus crash Sunday night on a mountain road were hospitalized and family members gathered to wait for updates on their conditions.
Two patients -- identified as an adult male and girl -- at the hospital were listed Monday morning in critical condition. Another adult male was in serious condition, and a woman and girl were listed in fair condition.
Three patients were transferred to Loma Linda Medical Center overnight from other hospitals. They included a man and woman in fair condition and a boy in fair condition.
A victim's family member said some of the estimated 40 passengers were students from Tijuana, Mexico and their guests. They were returning from a skiing and snowboarding trip in Big Bear when the bus began swerving at about 6:30 p.m. Sunday on Highway 38 near Yucaipa.
Michael Guluster, of San Diego, was at Loma Linda Medical Center Monday morning. His 60-year-old sister-in-law was killed in the crash, Guluster said.
Guluster's sister-in-law boarded bus at about 6 a.m. Sunday in San Ysidro, he said. He was attempting to locate a niece and her 14-year-old son who were aboard the bus.
"We called all the hospitals, nobody knows about them," said Guluster.
Most of the passengers were Mexican nationals, Guluster said. The bus had been returning from a daytrip to Big Bear to Tijuana.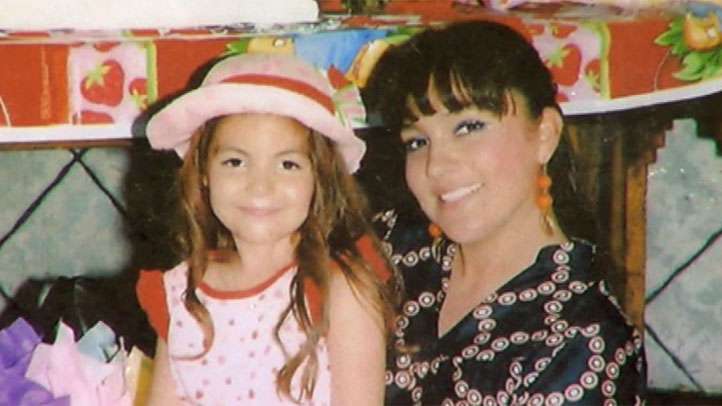 Another family member at the hospital Monday morning told NBC4 his 11-year-old niece Victoria was among those critically injured. He was still trying to find his sister, the girl's mother, Aleida Adriana Arce Hernandez, who was was later confirmed to be among the dead.
"When she wakes up, the first thing she's going to ask me for is her mom. What can I say?" said Miguel Arce, of Tijuana, of his niece, seen at left with her mother.
Arce Hernandez's boyfriend told NBC4 she had surprised her daughter with the trip to Big Bear, her first visit to the mountains and first experience of snow.
At least 15 people were hospitalized. Other victims were treated at the scene, where fire-rescue crews set up triage areas.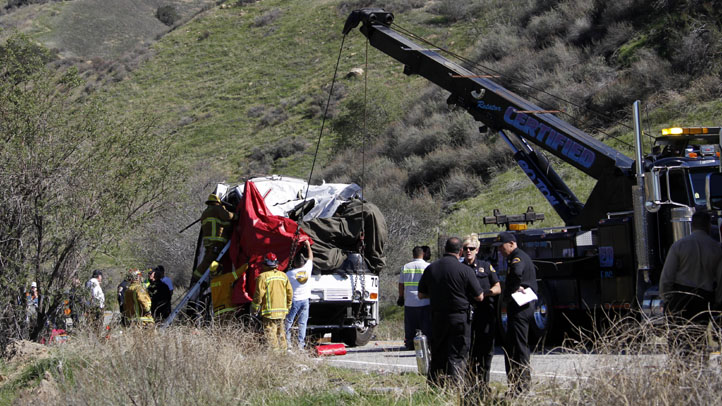 Arrowhead Regional Medical Center said four women had been admitted from the crash. Redlands Community Hospital said it received one person in critical condition and one with minor injuries.
Passengers and another driver told NBC4 the bus swerved for about three minutes and the driver reported brake problems before the bus crashed into two vehicles and flipped. Some passengers were ejected from the bus, other were extricated from the wreckage on the two-lane highway.
A Caltrans officials described the crash as the worst she has seen in 23 years working for the agency.