The loss of guard Jordan Adams to a broken foot and a defeat in the Pac-12 Championship game against Oregon dropped UCLA to a No. 6 seed in the NCAA Tournament. But the Bruins didn't drop far enough for coach Ben Howland.
How to Win Your Office Pool | Tournament Preview
The selection committee sent the Bruins to the South Region, meaning they will play the Minnesota Golden Gophers Friday in Austin, Texas. Two lower-seeded Pac-12 teams will stay on the West Coast.
"Two other Pac-12 teams got to go to San Jose,'' Howland said Sunday after the tournament seedings were announced. "Honestly, I'd rather be Cal right now playing in San Jose. I'd rather be a 12 seed playing in San Jose."
Cal is the No. 12 seed in the East Region and will play UNLV in its opening game Thursday at HP Pavilion in San Jose. Oregon is the No. 12 seed in the Midwest Region and also plays its first game in San Jose against Oklahoma State.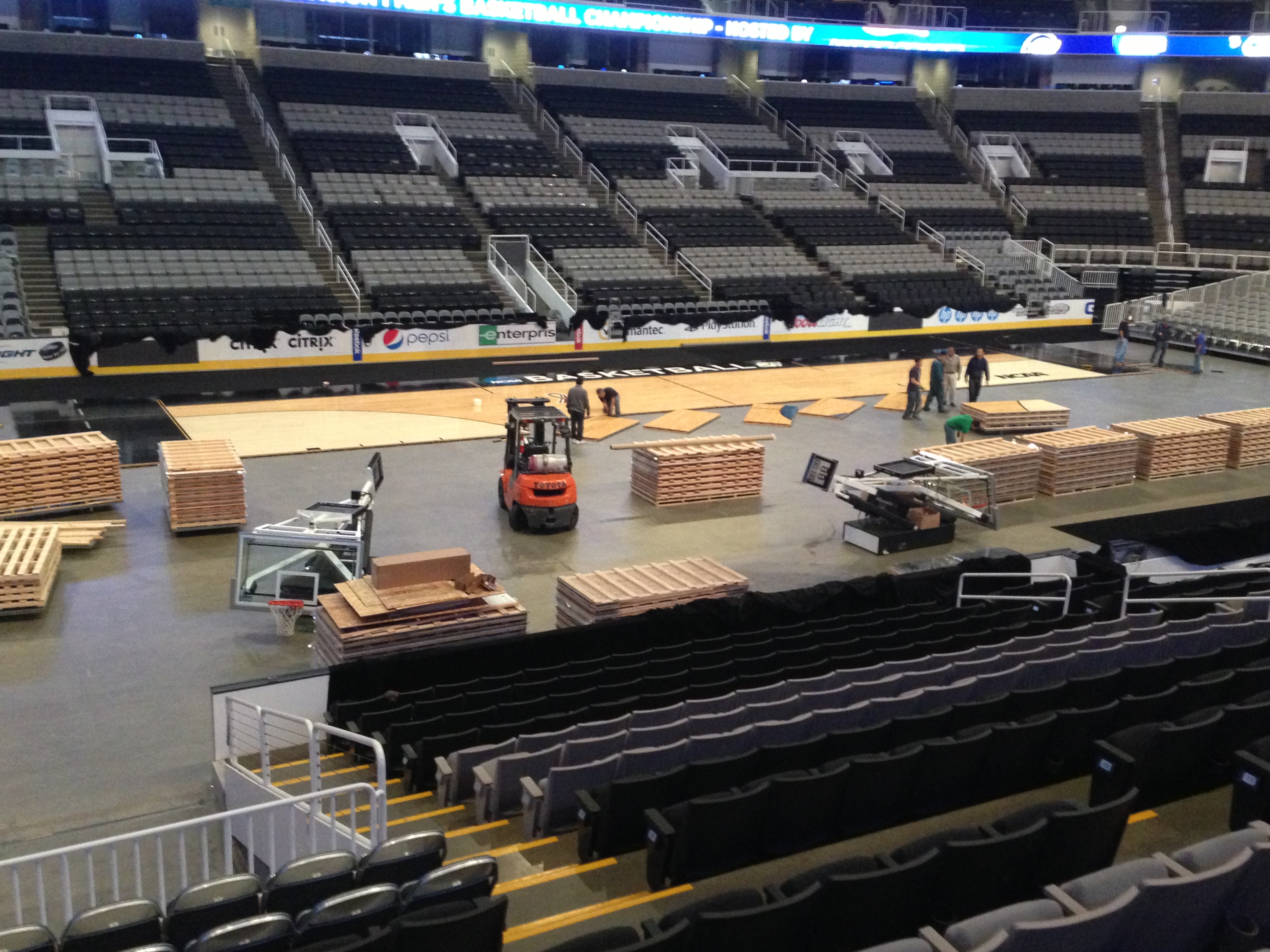 (Photo to the right is of HP Pavilion. On Monday, officials were preparing for the game.)
"I don't know why they would put us in Austin,'' said UCLA freshman guard Shabazz Muhammad, the Bruins' leading scorer with 17.8 points per game. "We proved ourselves all year in the Pac-12. You've just got to deal with adversity and handle business."
But it's not just the game's location that will weigh on the Bruins this week. Adams broke his foot on the last play of Friday's win over Arizona in the Pac-12 tournament before the Bruins' loss a day later in the conference title game.
"He's probably our best all-around player,'' Howland said. "Not only is he our second-leading scorer, he's our best perimeter defender.''
The Bruins will turn to Tony Parker and Kyle Anderson in Adams absence.
"I'm ready to step up for the challenge and be prepared for it,'' said Anderson, a freshman who averages 9.8 points per game and a team-leading 8.6 rebounds. "Our guys just have to be ready to adjust and make changes. They (coaches) will have something ready for us.''

Minnesota enters Friday's opening round after three consecutive losses, including a loss to Illinois at the sttart of the Big Ten Conference Tournament last week. The Gophers lost to Nebraska and Purdue to close out the regular season, but defeated then-No. 1 Indiana earlier this year.
If UCLA beats Minnesota (20-12), the Bruins will play the winner of the No. 3 Florida-No. 14 Northwestern State game.
Published at 6:01 AM PDT on Mar 18, 2013 | Updated at 2:05 PM PDT on Mar 18, 2013