Alisha Mankin never thought she would actually escape the police on Jan. 28, 2009, as she led officers on a wild car chase for 2 1/2 hours.
"I knew I wasn't going to get away, but I just didn't want to stop," she said. "I was going to keep going."
And she did.
She covered 90 miles across multiple freeways, travelled at high speeds – weaving in and out of traffic, even crossing a median.
Addict Who Led Police on Dramatic Chase Turns Life Toward Family
The entire time Mankin was driving a U-Haul.
The chase began in Littlerock, where a Los Angeles County Sheriff's deputy was investigating a possible stolen vehicle. Mankin was there with two associates. And as the deputy questioned one of them, Mankin hopped in the U-Haul and took off.
"I was done," she said. "I was done with life that day."
Dramatic SoCal Police Pursuits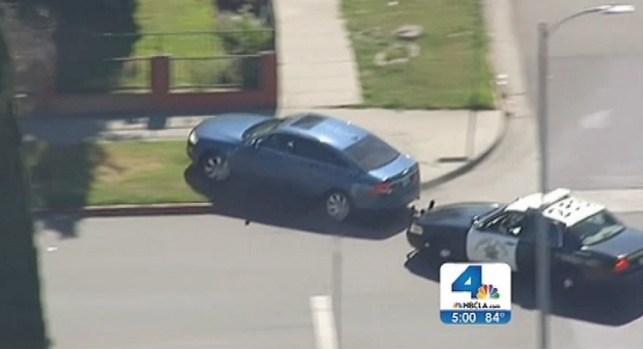 It had already been a long road for then 25-year-old Mankin, who began using meth at the age of 12.
"I gave my life to meth," she said, "and it took it and run."
Mankin's mother, Vikki Montegna, said her daughter had tried to quit drugs but would "get better and then go back."
Mankin would disappear for weeks at a time. On more than one occasion, her mother was called to identify a body that authorities thought may have been her daughter.
Mankin said meth addiction is ruthless, and left her without any hope.
"The longer you are on it, you just want to be done so bad and you can't," she said. "You can't. It won't let you."
Mankin was high the day of the pursuit. When she first took off, her intention was to get home.
Through tears she explains, "I wanted to tell my mom goodbye."
She drove the U-Haul until it ran out of gas, and then she ran. Thirty seconds later she was tackled by a California Highway Patrol officer.
As they put her in the back of a squad car, Mankin said she felt almost instant relief.
"It was almost like, I can breathe," she recalled. "OK, it's over. It's done."
She pleaded guilty to evading police and a hit-and-run crash.
Mankin does not remember the judge's name, but his words to her the day of her sentencing have stayed with her:
"He said, 'It doesn't matter where I send you – prison – or what I do with you. If you don't choose to get clean nothing is going to help you. Nothing is going to change your life."
Mankin was sentenced to six months in county jail. Other inmates nicknamed her "U-Haul."
While in jail, she began to write letters to treatment centers. She was ready for the hard work of trying to save her own life.
Mankin believes jail was necessary for her in order to build the life she has now.
She is off drugs. She regained custody of her young son Nicolas. She married and now has a 2-year-old daughter named Robbie Lynn.
The woman involved in the 2009 pursuit seems to her like another person, leading another life.
Mankin was hesitant to share her story and bring up the "embarrassment" and "shame" of that day.
It is her hope that her story "helps someone."
She wants others to know that change is possible.
"You can change. There is hope. Don't ever give up," she said. "When you feel like there is nothing left to do, there still is."
Mankin now lives with her family in the same neighborhood she grew up in. She said life is "hectic but happy," and she seems to revel in the chaos that comes with being a mom.
After so many difficult years, it is her role as a parent that makes her most proud.
"I am a great mom. And I have both my children and they are amazing," she said. "I love them so much and I will never let them down and I will always be there."
As for the chase that captivated the Southland: Alisha Mankin can now look back and be grateful.
"That chase saved my life."