A vigil was held for Saturday evening to honor the memory of a 10-year-old Yorba Linda boy who died after being swept away in strong current at Yosemite National Park. His 6-year-old stepbrother, also taken by the turbulent Merced River, is still missing and presumed dead.
The body of Andreas Adams, the older stepbrother, was recovered after the Wednesday accident at a popular hiking area below Vernal Fall. He was pulled from the water 150 yards downstream and could not be revived.
Six-year-old Jacob Adams remained missing, and a search for him was expected to continue Saturday.
The boys' mother, Char, and an older brother, Josh Reish, were injured and hospitalized in Fresno after they attempted a rescue, according to a press release issued by the family's Anaheim church.
"We are asking for prayers for Jacob to be found soon, so the family can have some measure of closure and focus on beginning the healing,'' said pastor Bob Kopeny of Calvary Chapel East Anaheim in Anaheim Hills in the release.
Char Adams broke several bones in her foot and injured vertebrae in her back, Kopeny said in an interview.
The church, which held Saturday's vigil, operates Sugar Pine Christian Camp in Oakhurst, just west of Yosemite National Park. About 100 people from the church had gone to Yosemite for an annual week of fellowship, church officials said.
The Adams family group decided to spend the day in Yosemite Valley while the rest of the churchgoers went to nearby Bass Lake, according to church's Friday press release.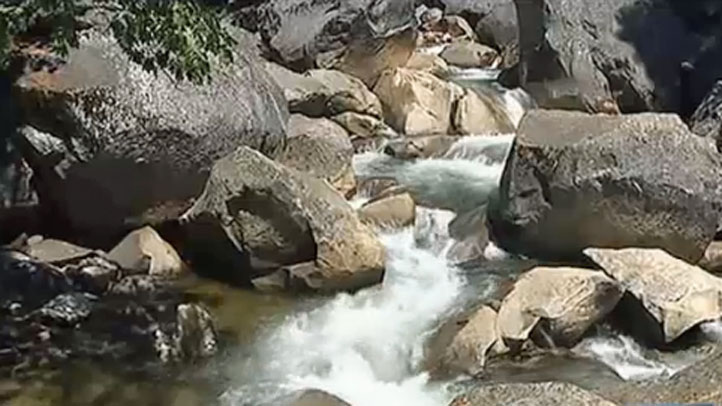 When the family was wading in the river (pictured at right), the stepbrothers were swept into the water down a steep boulder-strewn area that can be treacherous, according to park officials.
A fund has been set up for the family. To contribute, a check can be sent to the church – at 5605 E La Palma Ave, Anaheim, CA 92807. – and addressed to "Yosemite Family Relief'' starting Monday.
More information is at the church's website.
The church's press release spelled the name of the boy who died as "Andreas," saying he went by "Andy." His name has also been reported as "Andres."
NBC4's Janet Kwak contributed to this report.
Follow NBCLA for the latest LA news, events and entertainment:iPhone/iPad App | Facebook| Twitter | Google+ | Instagram | RSS | Text Alerts | Email Alerts