Valves controlling the flow of water to a Westwood water main break were shut off, allowing workers to begin the process of repairing broken pipes and a street near the UCLA campus.
Repair Work at Westwood Sinkhole
The valves, which had been leaking, were turned off Wednesday night -- more than 24 hours after a high-velocity stream of water punched through the street, shattering pavement and sending an estimated 20 million gallons of water onto the UCLA campus and surrounding area.
The break occurred at the meeting point under Sunset Boulevard of a 30-inch pipe installed in 1921 and a 36-inch pipe installed in 1956.
Workers were prepared to use a large inflatable plug to stop the water flow, but crews were able to turn off the valves without the plug. Shutting off valves and pipes creates the risk of more ruptures in the 7,200-mile system, especially on hilly areas in and around campus.
UCLA Athletic Department Faces Financial Impact From Flooding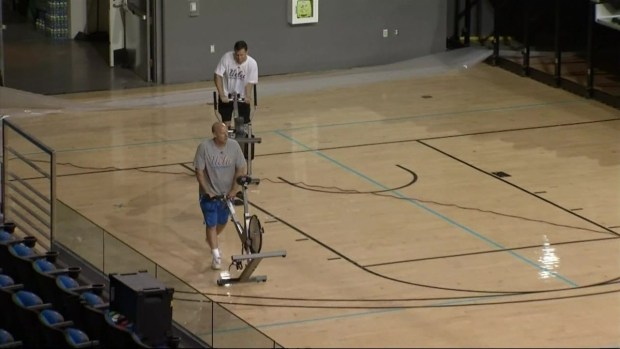 At its peak, about 36,000 gallons of water per minute gushed from the break. The pipe carried 75,000 gallons per minute when it functioned, officials said.
By Wednesday, water was flowing at a rate of about 1,000 gallons per hour from the pipes that are part of a system that connects with Stone Canyon Reservoir near the Sepulveda Pass.
Los Angeles Department of Water and Power workers used welding torches during overnight repair work, cutting through three-eighths inch thick steel pipes.Heavy contruction equipment was used to excavate around the pipe so workers could get a better look at the damage.
"We have two trunk lines involved and where they connected required special fittings," said Jeff Bray, LADWP general superintendent for water distribution. "It isn't where we can just cut out a straight piece of pipe and put in a straight piece, which is a pretty simple repair. This a very complex repair. We're basically having to realign or reroute some of the pipes -- the direction on how they came together before they're going to come together in a different way now."
Water Main Break Floods UCLA Campus
Repairing the pipes and sinkhole will require a closure on Sunset Boulevard until at least Friday evening. Drivers traveling in the area should use Santa Monica Boulevard, Wilshire Boulevard or Olympic Boulevard to avoid the road closure.
The break caused flooding in UCLA campus buildings, including famed Pauley Pavilion, and parking structures. Blow-drying machines were used Wednesday in Pauley Pavilion, Arthur Ashe Student Health and Wellness Center, JD Morgan Center and John Wooden Center.UCLA athletic department officials said the Pauley Pavilion court -- at one point, under about eight inches of water -- will have to be replaced because of buckling and expansion two years after a $136 million renovation.
About 900 vehicles that remain stranded in the flooded parking structures will likely remain in the parking garages until they can be towed out, possibly on Friday.
Post-doctoral student George Saddik stood Wednesday outside one of the garages where his SUV was parked on the bottom level. Saddik, who had to spend the night at the home of a brother-in-law, said he was less concerned about his vehicle than about how he would commute to his home 50 miles away.
"I have insurance so I'm not sweating it," he said.
Elsewhere on campus, workers shoveled away dirt and mud from buildings. Sand bags, hastily gathered to protect buidings from rising waters, were removed.
But signs of the flood remained -- torn-up strips of soggy carpet were piled outside the J.D. Morgan Center, home of the school's 111 NCAA trophies and a museum to its athletic accomplishments featuring legendary coach John Wooden's den. None of the displays appeared to be damaged, but the floor was bare and was being dried out.
Street sweepers rounded the newly renovated track, removing mud and debris.
No utility customers were without water. No injuries were reported.