Authorities assessing damage Thursday afternoon in Pasadena determined more than 42 buildings -- both residences and businesess -- should be red tagged because of damage caused by winds that howled through the area late Wednesday and early Thursday.
Viewer Images | Griffth Park Closed | Weather Page | Wind-Related School Closures
The winds toppled trees, ripped the roof off a restaurant in Glendale and prompted Pasadena city officials to declare a local emergency. About 100 trees fell during the night in Pasadena, including one large tree that crushed a gas station canopy on Colorado Boulevard.
"I have been with the city for over 32 years here, and I have never seen it to this degree -- the widespread damage throughout the city," said Pasadena Fire Chief Calvin Wells. "It was getting out of hand at times, hard to keep up with."
"This is my roof! I can touch my roof," said Adrian Quin. A large pine tree crashed into her house, collapsing part of the roof.
"It hit the kitchen and the garage. It didn't hit the bedrooms," Quin said.
Forty-two buildings were red tagged -- meaning the severity of the damage is such that the structure cannot be inhabited. The figure includes individual units within apartment complexes.
Six buildings were yellow tagged, meaning the structure was moderately damaged.
At about 12:30 p.m., engineers still had to evaluate about 200 buildings.
A tree fell onto an apartment building in the 1200 block of North Hudson Avenue. About 40 residents were transported to a shelter.
"We've had several fires, trees into structures, limbs down," said Lisa Derderian, Emergency Management Coordinator for the city of Pasadena.
The emergency proclamation enables the city to request additional resources. Public schools were closed Thursday and officials said they will remain closed Friday.
Even for residents whose vehicles and homes were not damaged, it was a loud and restless night.
"You could hear sirens, loud booms, loud crashes -- it was a scary situation here," a resident told NBC4.
Nearby Sierra Madre also declared a City Emergency. Overnight winds damaged 20 structures and left debris on the majority of the city's roads.
"This is the worst damage from a wind storm I've seen in my 28 years of working for cities," said Sierra Madre's director of emergency services, Elaine Aguilar.
The wind left tree branches and other debris on streets, and ripped the roof off Shaker's restaurant in Glendale. In nearby Eagle Rock, firefighters knocked down a 2-acre fire near Occidental College that was caused by downed power lines.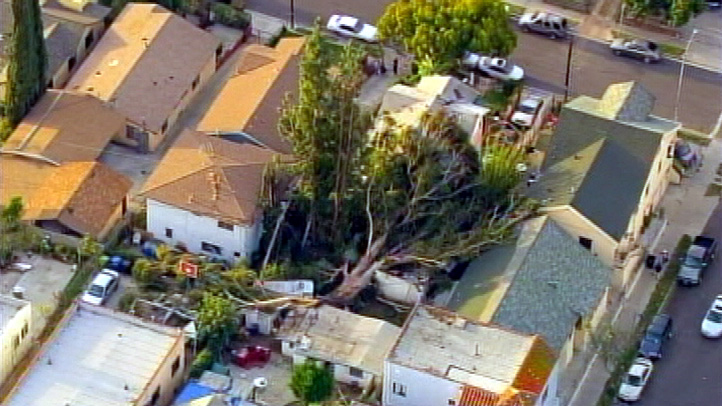 Another large tree fell on a Boyle Heights house (pictured, right) at 600 North Mott St.
Lane closures caused by downed trees slowed the morning drive Thursday on the westbound 134 Freeway at San Rafael and northbound 5 Freeway at the 2 and Colorado Boulevard.
And, it's not over.
Wind gusts up to 85 mph are possible Thursday. Expect sustained winds around 45 to 60 mph.
The National Weather Service issued a red flag warning -- indicating wildfire conditions -- effective until Friday evening. Fire departments are taking precautions with increased staffing levels, parking restrictions and equipment deployment.
Power Outages
More than 350,000 utility customers were without electricity Thursday, including 141,000 LADWP customers as of 12:30 p.m.
The neighborhoods experiencing the most extensive impacts were Playa Del Rey, Del Rey, Westchester, Venice, Hollywood, Beverly Grove, Van Nuys and Encino, according to LADWP.
Southern California Edison, which serves Southland customers outside the city of Los Angeles, reported that areas hardest hit were Altadena, La Canada, La Crescenta, Pasadena and the South Bay. As of 10 a.m., 211,469 SoCal Edison customers were without power.
"We're making a dent in repairs, but we don't know what the winds will bring later this afternoon," said Mark Hanson, of SoCal Edison.
About 20 flights were diverted from LAX to other airports after an hourlong power outage Wednesday night. Some airport tenants failed to properly secure their equipment and containers rolled onto two runways, which prompted a temporary closure.
Follow NBCLA for the latest LA news, events and entertainment: Twitter: @NBCLA // Facebook: NBCLA