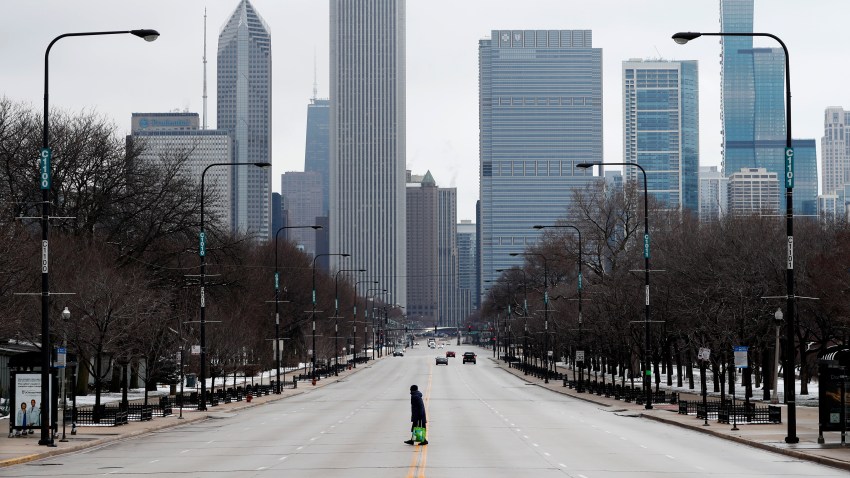 Here's a timeline of events in the United States and the west since the coronavirus outbreak:
Friday, February 28, 2020
First Coronavirus Death Reported in US
The governor of Washington state declares a state of emergency after a man dies there of COVID-19, the first such reported death in the United States.
Wednesday, March 11, 2020
Los Angeles County Reports 1st Coronavirus Death
The first person to die of the coronavirus in Los Angeles County is reported as health officials tally 29 cases in the county as California Gov. Gavin Newsom urges the state's nearly 40 million residents to avoid sporting events, concerts and large gatherings to prevent its spread.
Local
Local news from across Southern California
Thursday, March 12, 2020
Disneyland, California Adventure, Disney World Close
Disney Resort officials announce that Disneyland, California Adventure, Disney World and Disneyland Paris Resort theme parks are shutting their doors.
Saturday, March 14, 2020
Airports Begin Screening Passengers for Coronavirus
Los Angeles International Airport is designated by the U.S. Department of Homeland Security as one of 13 airports that will screen Americans and their immediate families returning from a list of restricted countries for the coronavirus.
Sunday, March 15, 2020
Newsom Calls for Bars to Close
Gov. Gavin Newsom asks all bars, nightclubs, brewpubs and wineries to close as U.S. Centers for Disease Control and Prevention guidelines limit gatherings to 10 people and urge the public to avoid unnecessary travel and to stay indoors as much as possible.
Monday, March 16, 2020
Archdiocese of LA Suspends Masses
The Archdiocese of Los Angeles announces the suspension of masses due to the coronavirus pandemic. "I deeply regret that we are forced to temporarily suspend public celebration of the Mass in the Archdiocese of Los Angeles," Archbishop José H. Gomez says in a statement.
Monday, March 16, 2020
LA County Orders Closure of Bars, Gyms
Los Angeles County orders the closure of bars, gyms, and entertainment centers, and restricts restaurants to just take-out or delivery service as the nation faced the rapidly-spreading coronavirus outbreak. The move affects the county's estimated 10 million people.
Monday, March 16, 2020
Movie Theaters Close
U.S. movie theaters nationwide shut down.
Monday, March 16, 2020
Schools Close
Tuesday, March 17, 2020
Courts Shut Down
Courts in the state stop hearing cases.
Wednesday, March 18, 2020
California State Parks Close Campgrounds
The California State Parks close all campgrounds.
Wednesday, March 18, 2020
Restaurants Close
Businesses shutter after struggling to cover costs without dine-in options.
Wednesday, March 18, 2020
Nevada Shutters Gambling
Nevada Gov. Steve Sisolak orders a monthlong closure of casinos and other non-essential businesses such as bars, movie theaters and gyms.
Thursday, March 19, 2020
40 Million Californians Ordered to Stay Home
California Gov. Gavin Newsom issues a statewide "stay at home" order, and calls on residents to recognize the reality of the coronavirus pandemic.
Thursday, March 19, 2020
Global Travel Advisory Raised to 'Do Not Travel' Abroad
The U.S. State Department raises its travel advisory worldwide to Level 4: Do Not Travel.
Thursday, March 19, 2020
West Hollywood Mayor Tests Positive for Coronavirus
West Hollywood Mayor John D'Amico tests positive for coronavirus and is quarantined at his home.
Friday, March 20, 2020
Restaurants Turn to Delivery
Restaurants across the country shut down service, spelling estimated losses of $225 billion and as many as 7 million jobs over the next three months.
Friday, March 20, 2020
US and Mexico Curtail Cross-Border Travel
Mexico and the U.S. sharply limit travel over their busy shared border as they try to control the spread of the coronavirus pandemic.
Friday, March 20, 2020
'Safer at Home' Order Issued in LA County
Los Angeles Mayor Eric Garcetti issues a "safer at home" health order stopping non-essential activities outside of residences in response to COVID-19.
Friday, March 20, 2020
Two Lakers Players Test Positive for Coronavirus
Saturday, March 21, 2020
First Weekend of State Stay-at-Home Order Hits Millions
Most Californians stay at home on a Saturday that was unlike any its 40 million residents had ever seen before.
Sunday, March 22, 2020
President Trump Approves State Disaster Declaration
President Donald Trump declares a major disaster in California and approves federal funds for the state to fight the coronavirus.
Sunday, March 22, 2020
Trump Announces FEMA Help, National Guard Deployed
The virus surpasses 329,000 with more than 14,000 reported deaths. In the United States, there are more than 31,174 confirmed cases of the virus. At least 378 people have died.
Sunday, March 22, 2020
LAPD Ramps Up Coronavirus Staffing
Los Angeles Police Department Chief Michel Moore tells officers he hopes the city's "Safer at Home" initiative can be gently enforced, as residents settle in for weeks of isolation.
Monday, March 23, 2020
LAUSD Extends Closures to May 1
All schools in the nation's second-largest school district will remain closed through May 1, after having been closed for a week due to the spread of the novel coronavirus.
Monday, March 23, 2020
LA Starts Testing High-Risk Residents for Coronavirus
The city begins making coronavirus testing available to high-risk residents who are showing symptoms.
Monday, March 23, 2020
LA County Shuts Down Trail, Beach Parking Lots
Los Angeles County Parks and Recreation trails are shut down due to overcrowding over the weekend.
Tuesday, March 24, 2020
Tokyo Olympics Officially Postponed Until 2021
Japan's Prime Minister Shinzo Abe proposes a one-year postponement for the 2020 Tokyo Summer Olympics.
Wednesday, March 25, 2020
US Jobless Claims Climb Sky High
There are more suddenly jobless Americans than during the Great Recession. And more than in the aftermath of major natural disasters such as hurricanes, fires and floods.
Thursday, March 26, 2020
LA County Sheriff Closes Gun Stores in 42 Cities
The Los Angeles County Sheriff's Department says his department is closing gun stores in unincorporated areas of the county and the 42 cities where it provides law enforcement, after suspending efforts earlier this week following the county counsel's office declaring gun stores essential businesses during the COVID-19 outbreak.
Friday, March 27, 2020
Global Economy Goes in Recession
The head of the International Monetary Fund says it is clear that the global economy has now entered a recession that could be as bad or worse than the 2009 downturn. IMF Managing Director Kristalina Georgieva said the 189-nation lending agency was forecasting a recovery in 2021, saying it could be a "sizable rebound."
Saturday, March 28, 2020
California Restaurants Say 30% to Close Without State Aid
As many as 30,000 California restaurants could close permanently because of coronavirus restrictions that have shuttered dining rooms and led to widespread layoffs, the industry warned Friday.
Sunday, March 29, 2020
No Masks, Sanitizer as Virus Spreads Behind Bars
Health experts say prisons and jails are considered a potential epicenter for America's coronavirus pandemic.
Monday, March 30, 2020
LA Mayor Closing Farmer's Markets
Los Angeles Mayor Eric Garcetti provides details on the spread of COVID-19 after finishing the second week of "safer at home."
Tuesday, March 31, 2020
Covered California Extends Enrollment Deadline
Covered California expands its special enrollment period through June 30 to help anyone uninsured and eligible to obtain health coverage because of job loss or other qualifying life events.
Tuesday, March 31, 2020
White House Projects 100K to 240K US Coronavirus Deaths
President Donald Trump warns Americans to brace for a "hell of a bad two weeks" ahead as the White House projected there could be 100,000 to 240,000 deaths in the U.S. from the coronavirus pandemic even if current social distancing guidelines are maintained.
Wednesday, April 1, 2020
Probation Department Employee at Juvenile Hall Tests Positive for Coronavirus
A Los Angeles County Probation Department employee who works at Barry J. Nidorf Juvenile Hall in Sylmar tests positive for coronavirus.
Wednesday, April 1, 2020
Gun Background Checks Smash Records Amid Coronavirus Fears
Background checks required to buy firearms spike to record numbers, fueled by a run on guns from Americans panicked about their safety.
Wednesday, April 1, 2020
Lakers Who Tested Positive for Coronavirus Symptom-Free
The two Los Angeles Lakers players who tested positive for COVID-19 on March 19 recover and are symptom-free after a 14-day quarantine.
Wednesday, April 1, 2020
LA Confirms First Homeless Case of Coronavirus
Los Angeles' first coronavirus case of a homeless person involves a person who was staying at the Union Rescue Mission.
Thursday, April 2, 2020
World Sees Over 1 Million Cases
The race to protect people against unwitting coronavirus carriers intensifies as the total number of cases worldwide neared 1 million and Spain topped 10,000 deaths.
Thursday, April 2, 2020
Alcohol Sales Rise in U.S.
As more people began sheltering in their homes throughout the month of March to help curb the spread of the coronavirus, retail alcohol sales in the U.S. rise.
Thursday, April 2, 2020
Riverside County Sheriff's Deputy Dies After Contracting Coronavirus
Deputy Terrell Young dies after a weeklong battle with the virus.
Tuesday, April 7, 2020
Mayor Garcetti Orders Masks, Face Coverings at Essential Businesses
Los Angeles Mayor Eric Garcetti mandates that workers in essential businesses such as grocery stores and restaurants wear face coverings, while also authorizing businesses to refuse service to customers who aren't wearing them.
Tuesday, April 7, 2020
Masked Crowds Fill Streets, Trains After Wuhan Ends 76-Day Lockdown
After spending more than two months indoors, millions of people enjoy a renewed sense of freedom when the Chinese city's 76-day coronavirus lockdown is lifted.
Saturday, April 11, 2020
California Newspapers Seek State Help as Virus Hits Revenue
California newspapers are asking the state to help rescue their industry, as the economic crisis from the coronavirus slashes print advertising revenues, causing layoffs in an already battered industry.
Saturday, April 11, 2020
Entire Country Is Now Under Disaster Declaration
The coronavirus death toll in the U.S. climbs to nearly 20,000 while the total number of cases surpasses 514,415.
Sunday, April 12, 2020
Californians Celebrate Easter at Home, in Cars
Churches were empty but Californians celebrated Easter from their homes and even in their cars as residents endured the fourth straight weekend under statewide orders to stay indoors to slow the spread of the coronavirus.
Sunday, April 12, 2020
Traffic Drop From Stay-at-Home Orders Imperils Road Funding
State highway departments across the U.S. are starting to feel the financial pinch from a dramatic decline in driving caused by coronavirus precautions. Fewer vehicles on the roads means fewer gallons of gas purchased, which means less tax revenue for repairs and new projects.
Tuesday, April 14, 2020
Churches Sue Newsom Over Stay-at-Home Order
The pastors of several churches in the Inland Empire file a lawsuit against county leaders as well as California Gov. Gavin Newsom, saying the issue is the First Amendment. Some local pastors believe the stay-at-home orders violate their religious freedom.
Tuesday, April 14, 2020
California Governor Gives Outline for Lifting Virus Closures
California Gov. Gavin Newsom unveils an outline for what it will take to lift coronavirus restrictions in the nation's most populous state, asking more questions than answering them as he seeks to temper the expectations of a restless, isolating public.
Wednesday, April 15, 2020
103-Year-Old Kentucky Woman Survives Coronavirus Infection
Virginia Harris, who lives in Hopkins County, was diagnosed with the virus in March after an aggressive fever and nausea, her family told WFIE-TV. Because she didn't have respiratory issues, her family didn't think it was coronavirus, but she was tested anyway.
Saturday, May 2, 2020
Airports Adjust Their Health Guidelines During Coronavirus Pandemic
While airports like LAX look very different these days, they are still open for business and because of the coronavirus pandemic, they're making adjustments.
Thursday, May 7, 2020
Griffith Park, Other Trails to Reopen in Time for Mother's Day
Griffith Park will reopen on Saturday morning -- a day before Mother's Day -- after being closed due to the coronavirus.
Monday, May 18, 2020
California is Relaxing Some of Its Criteria for Reopening
California is relaxing some of its reopening criteria, and that could mean most of the state may soon be offering services such as dining at restaurants.
Thursday, June 4, 2020
COVID-19 Anxiety on the Decline, But Angelenos Worry More Than Other Americans
While Americans feared contracting COVID-19, job loss and money worries seemed to be more significant drivers of mental distress.
Monday, June 8, 2020
Orange County's Chief Health Officer Resigns After Criticism Over Face Coverings
Orange County's chief health officer, Dr. Nichole Quick, resigned night after drawing criticism from residents for her order last month to require face coverings as the county allowed some businesses to reopen.
Wednesday, June 10, 2020
Disneyland Proposes Reopening Date
Disneyland proposes a date in July for a phased reopening of the parks.
Wednesday, July 1, 2020
Orange County Orders Bars to Close as Virus Cases Soar
Orange County's health department ordered bars to close at midnight as communities in Southern California grapple with rapid increases in the number of coronavirus cases and hospitalizations.
Tuesday, July 14, 2020
LA County Sets New Single-Day Record for COVID-19 Cases, Hospitalizations
Los Angeles County reports a single-day record number of coronavirus cases, while the volume of people hospitalized due to the virus reached its highest point of the pandemic.
Tuesday, Aug. 11, 2020
ACLU Says ICE Secretly Bans COVID-19 Testing of Adelanto Detainees
Civil rights attorneys allege that although about 1,900 COVID-19 test kits were sent to the immigrant detention center in Adelanto, U.S. Immigration and Customs Enforcement officials refused to allow the vast majority of them to be used, according to Los Angeles court documents obtained Tuesday.