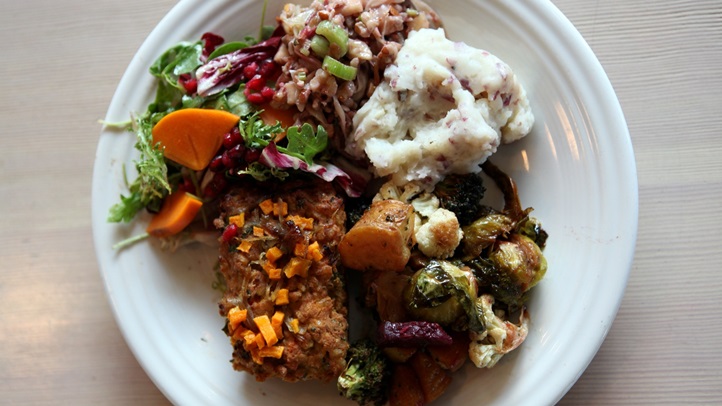 If you got stuck stirring the gravy pot last Thanksgiving -- a noble and important job, but one that can take you out of the gossip going down in the den and the pick-up games in the yard -- there is a solution: Take everyone out for dinner.
You're all at the same table at the same time, someone else is stirring the gravy, and you won't miss a lick of family stories and scuttlebutt. Hundreds of restaurants around Southern California stay open for the holiday, going the turkey-plus-everything route, so finding your crew's spot is a matter of taste and location.
Call ahead for those all-important reservations -- of course you will -- and make for...
Local
Local news from across Southern California
Café Gratitude: The Arts District eatery has the spirit of Thanksgiving in its name all year long, and that spirit extends into the day itself, when its annual meal is presented at no cost to diners. The "free composed plate" of holiday classics -- all plant-based -- will be served from 11 o'clock through 3 "or while still available." More Apple and Pomegranate Spritzer, please.
Doma Kitchen: Eating out of a pumpkin is what we typically do come Halloween, what with the miniature candy bars and all. But the Manhattan Beach restaurant is serving up a savory ground chicken meatloaf & fresh vegetables inside a real (not plastic) pumpkin. There are the usual yummy Thanksgiving finds, too, like mashed potatoes, green beans, and herb-roasted turkey.
Sambar: If you're an Akasha aficionado, you likely know all about Chef Akasha Richmond's latest venture in Culver City. Sambar is open on Thanksgiving and is doing up a menu that pays homage to the flavors of India. Hello, garam masala and tomato-braised turkey, and hello to a pie buffet (word has it that Chef rather loves pie, though don't we all).
Artisan House: It's always a question on T Day -- plated or buffet? If you love the latter, make for Main Street and a $30 comprehensive all-included chowdown of favorites like traditional roast turkey and pecan pie (and newbies like truffle mac & cheese). One beyond-the-buffet add-on? Bottomless mimosas for a tenner.
Disneyland Hotel: Several restaurants around the world's most famous theme park go the full-on stuffing route, and while seats can be a little tricky to come by as the holiday draws closer, you might luck out. One draw? Should you find yourself at the Disneyland Hotel buffet, the chances of you getting a pic with Donald Duck, or another iconic character, post-turkey, are quite high.
The Larchmont: Any hearty edible that's been braised or brined in a delicious libation or spice just feels like November on a plate, and The Larchmont has a couple of choices in this arena, including a pastrami-brined turkey breast with Calvados gravy as well as a cider-braised turkey leg rolled with prosciutto and whipped robiola. Other tasties, like cranberry orange marmalade, fill out the menu.
Barton G.: For quirky vittles, this La Cienega post platery is tops. That reputation extends to the holidays, too, so prepare for a slightly offbeat Thanksgiving presentation. The "culinary theater" is offering a three-courser for $65, with pumpkin donuts to round out the sweet close of the meal. The restaurant's regular menu will also be available.
Terrine: While it is a lovely, tried-and-true thing to return to a location where you've eaten ten Thanksgiving dinners in the past, it can be fun to try out a place as they do up their first Thanksgiving. The Beverly Boulevard restaurant's $45 holiday meal includes a communal table filled with food and Chef Kris Morningstar performing carving duties out among the diners.
Anaheim White House: There's a large percentage of go-outers on Thanksgiving Day who like a hefty dose of visual cheer with their holiday foodstuffs, and this Orange County institution delivers on the twinkly lights, yuletide decor front. That it is also so a major player in feeding those in need throughout the year lends it some major spirit and heart, too.
The Tam O'Shanter: The Lawry's group of dress-up, eat-up eateries are known for their classics-filled Thanksgiving menus, and the Tam is going that route, with some Scottish goodies to pay homage to the restaurant's theme. How often have you enjoyed Scotch Rarebit on the November holiday? Not often enough?
Fogo de Chão: People who love everything and anything Churrasco style do not make exceptions for the holidays, and nor should they: Grilled meats can fold in well with the sides we know and love on the Thanksgiving table. Both the Beverly Hills and downtown locations will be open on Thanksgiving, and there shall be sweet potato casserole, cranberry, and more in addition to the those famous Fogo foods.
Crossroads Kitchen: It's known for its "forest-to-table" dishes as well as the luminaries who pop up there on the regular, and on Nov. 26 it'll be all about swanky T Day eats. Butternut squash bisque, autumn chop salad, sweet potato biscuits, and other stuff-the-face-ables will all be a part of the high-styling menu. Where to go? Melrose Avenue, of course.
Copyright FREEL - NBC Local Media