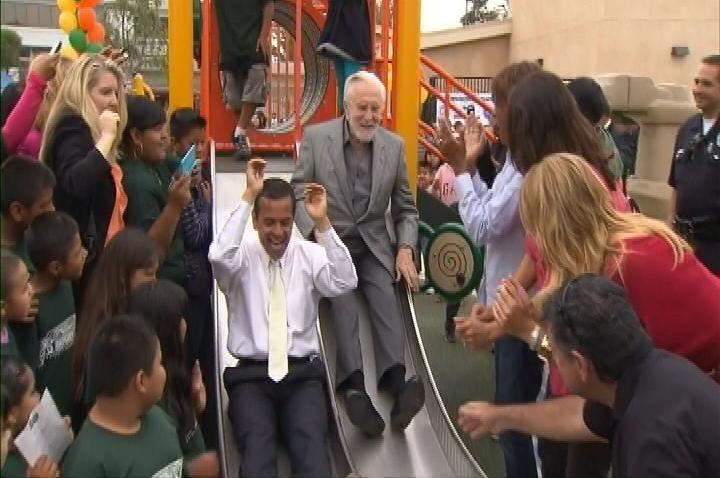 This July 4th, families in a South L.A. neighborhood will have a beautiful new green park and a playground to enjoy. The park is a labor of love, and almost everything was donated.
When the ribbon was cut, and the playground opened Wednesday morning At Gilbert Lindsey Park, the kids ran for the swings and slides, but 93-year-old, Hollywood legend, Kirk Douglas was the very first kid down the slide, along with L.A. Mayor Antonio Villraigosa.
Kirk Douglas and his wife Anne have built more than 400 playgrounds for the children of Los Angeles, but this one wasn't built by them, it was built I their honor as a way of thanking them for all they have given.
Local
Local news from across Southern California
"This park is a wonderful place," according to Kirk Douglas, Legendary Actor.
"I love those kids, and there is nothing I wouldn't give them, and look at their smiles," says Anne Douglas, Kirk Douglas' wife.
The equipment, the 50 thousand square feet of grass, the plants and the benches are a half-million dollar project donated to the city of L.A. by local companies and community groups: CVS, The Home Depot, Playcore, Boundless playgrounds and the GOOD NEWS FOUNDATION which was founded by the TV News women of Los Angeles to give back to the communities they cover.
"It was very important for all of us to make sure the playground was accessible to everyone, to every child. It is handicapped accessible, it is universally accessible," says Ana Garcia, The Channel Four News.
All the equipment was donated and so was most of the labor. It took a lot of people, a lot of hours, and a lot of love to build this park.