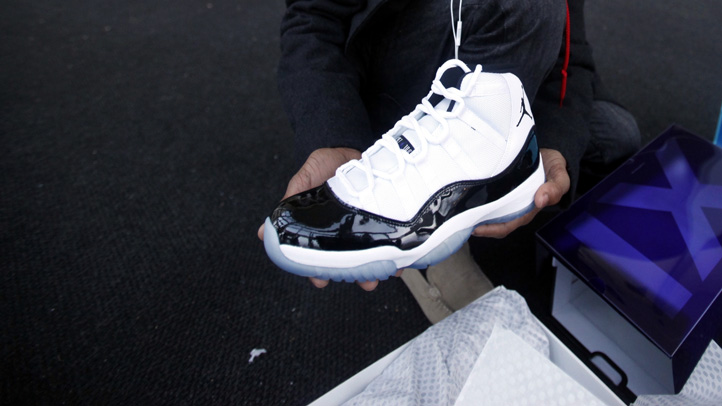 A crowd that gathered for the release of the new Air Jordan shoe prompted a police response at a shopping center in Redondo Beach -- just one location at which authorities had to control excited shoppers that lined up early Friday to buy the latest design.

Police responded to the South Bay Galleria after receiving a request from the center's security staff at about 2 a.m. Shoppers arrived early Friday morning for the release of Nike's new retro Air Jordan sneakers.

"They requested that we keep an eye on it," said Lt. Paul Wrightsman. "By 4:30, the line had turned into a crowd. They were being pressed up against the door."

There were no fights, but the large number of people and the possibility of a surge toward the door had people concerned, Wrightsman said.

Police broke up the crowd by moving people to a different location. No injuries were reported.
There were also problems at a number of other locations in California and across the country.
Scuffles broke out and police were brought in to quell unrest that nearly turned into riots in some places.
Local
Local news from across Southern California
The mayhem stretched from Washington state to Georgia and was reminiscent of the violence that broke out 20 years ago in many cities as the shoes became popular targets for thieves.
It also had a decidedly Black Friday feel as huge crowds of shoppers overwhelmed stores for a must-have item.
In suburban Seattle, police used pepper spray on about 20 customers who started fighting at the Westfield Southcenter mall.
The crowd started gathering at four stores in the mall around midnight and had grown to more than 1,000 people by 4 a.m., when the stores opened, Tukwila Officer Mike Murphy said. He said it started as fighting and pushing among people in line and escalated over the next hour.
Murphy said no injuries were reported, although some people suffered cuts or scrapes from fights. Shoppers also broke two doors, and an 18-year-old man was arrested for assault after authorities say he punched an officer.
"He did not get his shoes, he went to jail,'' Murphy said.
The $180 shoes went on sale Friday in a limited release at stores, and the lines began forming several hours before businesses opened.
As the crowds kept growing through the night, they became more unruly and ended in vandalism, violence and arrests.
A man was stabbed when a brawl broke out between several people waiting in line at a Jersey City, N.J., mall to buy the new shoes, authorities said. The 20-year-old man was expected to recover from his injuries.
In Georgia, officers said they had to break a car window to get two toddlers out after a woman went in after the shoes. They said she was taken into custody when she returned to the car.
In Richmond, Calif., police say crowds waiting to buy the Air Jordan 11 Retro Concords at the Hilltop Mall were turned away after a gunshot rang out around 7 a.m.
No injuries were reported, but police said a 24-year-old suspect was taken into custody. The gun apparently went off inadvertently, the Contra Costa Times reported.
17-year-old Dylan Pulver in Great Neck, N.Y., said he's been looking forward to the release of the shoes for several years, and he set out at 4:30 a.m. to get a pair. After the first store he tried was too crowded, he moved on to a second location and scored a pair.
"I probably could have used a half a size smaller, but I was just really happy to have the shoe,'' he said.
The frenzy over Air Jordans has been dangerous in the past. Some people were mugged or even killed for early versions of the shoe, created by Nike in 1984.
The Air Jordan has since been a consistent hit with sneaker fans, spawning a subculture of collectors willing to wait hours to buy the latest pair. Some collectors save the shoes for special occasions or never take them out of the box.
A new edition was launched each year, and release dates had to be moved to the weekends at some points to keep kids from skipping school to get a pair.
But the uproar over the shoe had died down in recent years. These latest incidents seem to be part of a trend of increasing acts of violence at retailers this holiday shopping season, such as the shopper who pepper-sprayed others at a Wal-Mart in the Porter Ranch area of Los Angeles on Black Friday and crowds looting a clothing store in New York.
Nike issued a statement in response to the violence that said: "Consumer safety and security is of paramount importance. We encourage anyone wishing to purchase our product to do so in a respectful and safe manner.''
The retro version of the Air Jordan 11 was a highly sought-after shoe because of the design and the fact that the original was released in 1996 when superstar Michael Jordan and the Chicago Bulls were at the height of their dominance.
Pulver said they were a "defining shoe in Jordan's career.''
Other disturbances reported at stores in places like Kentucky and Nebraska ranged from shoving and threats to property damage.
In Taylor, Mich., about 100 people forced their way into a shopping center around 5:30 a.m., damaging decorations and overturning benches. Police say a 21-year-old man was arrested.
In Toledo, Ohio, police said they arrested three people after a crowd surged into a mall.
In Lithonia, Ga., at least four people were apparently arrested after customers broke down a door at a store selling the shoes. DeKalb County police said up to 20 squad cars responded.
In Northern California, two men were arrested at a Fairfield mall after crowds shoved each other to get in position for the Nikes, police said.
In Stockton, Detective Joe Silva said a person was taken into custody at Weberstown Mall on suspicion of making criminal threats involving the shoes.
Police also were investigating an attempted robbery in the mall's parking lot. The victim was wrongly believed to have just purchased Air Jordans.
Follow NBCLA for the latest LA news, events and entertainment: Twitter: @NBCLA // Facebook: NBCLA