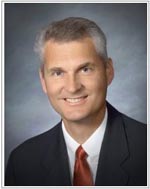 An attempt to recall Mayor Lance MacLean from his seat on the Mission Viejo City Council led by 118 votes with all 38 precincts
counted Tuesday night.

The recall led 50.4 percent-49.6 percent, 6,858 to 6,740, according to unofficial results released by the Orange County Registrar of Voters.

Kwik Copy Printing owner Dave Leckness defeated software engineer Dale Tyler, 54.3 percent-45.7 percent, 5,836 to 4,919, in the race to succeed MacLean if the recall was approved.

Leckness opposed the recall effort, but ran to offer an alternative if MacLean was recalled.

Recall advocates spent about a year on the process and turned in almost 14,000 signatures to get the issue on the ballot, forcing the $270,000 election.

Turnout was 20.5 percent, 12,673 of 61,924 registered voters, with all but 2,534 votes cast by mail.

In their ballot statement, recall supporters accused MacLean of "anger and incivility" for allegedly telling a fellow council member to shut up during a closed meeting, ``self-dealing'' for voting to ``double your council salary during our current economic crisis,'' and ``greed and corrupt priorities when you voted to give yourself lifetime medical benefits at taxpayer expense
after only 12 years of part-time council service.''

MacLean, whose council term expires in December, calls the allegations against him ``lies and mischaracterization,'' arguing that they represent a ploy to tip the political balance on the council, which is often split 3-2 on many issues.

"It's completely and totally unnecessary," MacLean said of the recall election. ``These recall proponents have paid signature gatherers in violation of state election law. They have filed Fair Political Practices Commission disclosure forms late or incomplete... Their accusations against me are, by and large, lies, mistruths and exaggerations.''

For instance, his opponents say MacLean joined with the majority to support $11.6 million in "deficit spending'' this year, but MacLean said they were unfairly characterizing a two-year budget, which called for spending $11.6 million less than projected one year and $11.6 million more than projected the next year.

MacLean, who became mayor in December under the city's rotation system, pointed out that the city has a AAA bond rating and $30 million in reserves. Considering the city has an annual budget of about $60 million, that's far more in the rainy-day fund than most cities have even in a healthy economic climate, he said.
Copyright CNS - City News Service