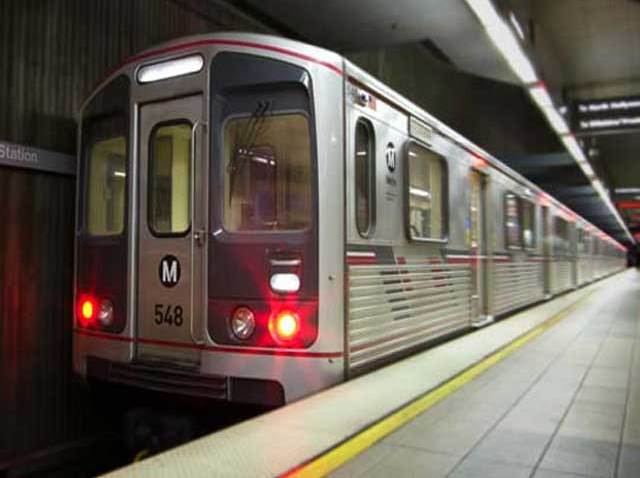 For the first time in 22 years, trains will move down the center of Exposition Boulevard past USC and through neighborhoods in southwest Los Angeles.
The Metro announced late Friday that it will begin slow test runs of trains on its $862 million Expo Line light rail tracks on Monday.
The electric trains will split off of the existing Blue Line tracks near Staples Center, and run slowly south and then back north along Flower Street. Eventually, they will curve through a new tunnel near USC and head west and back east along Exposition and Jefferson boulevards.
Local
Local news from across Southern California
The agency is warning residents and motorists that railroad crossings that have been empty will soon have fast-moving, very quiet trains on them. All pedestrian crossings have signals and alarms, and all cross streets have signals.
The western end of the first phase of construction, between La Cienega and Venice boulevards near Culver City, is not quite finished yet, so initial service will end short of Culver City. No start-up date for regular passenger service has been set yet.
Metro officials warned residents this weekend to expect the electric trains to start operations. Some neighborhood residents have vociferously objected to the trains, particularly near Dorsey High School.
A station has been added at Farmdale Avenue to ensure that trains will proceed slowly in that often-congested area.
Train service along this route first began in the steam era, in 1875, when the Los Angeles and Independence Railroad laid tracks to a proposed seaport at Santa Monica. Ownership of the tracks passed to Pacific Electric and then to Southern Pacific, which operated freight service on them to Santa Monica until 1989.
The tracks were abandoned and then purchased by Metro.
Final environmental studies are being completed on Phase Two of the project, which will extend service west from Culver City to Santa Monica.
And funding has been secured for a connecting train at Crenshaw Boulevard, which will extend south through Leimert Park, west through Inglewood, and then south to LAX and a connection with the Green line.
If a proposed "downtown connector" subway is built, light rail trains could travel straight through from East Los Angeles or Pasadena west to downtown Los Angeles, and then on to Santa Monica or LAX, partly using this new section of the Expo Line.
Copyright CNS - City News Service