My dog is a constant source of entertainment, and also of embarrasment. He's like a child who has a tantrum in public but always is perfectly well behaved when there are no witnesses. I would detail a few examples (the unfortunate incident at Home Depot for one; he has what you might call a ... "nervous" ... um, nervous colon) but there's not enough room in this column.
As my dog's favorite human, his trainer Stephanie, says, it's easier to train him to DO something than to NOT do something. He can poop on command (and he DID! I swear, right before we went into Home Depot!!) but unfortunately there's no "don't poop" command that he can wrap his head around.
I bring all of this up not to continue the disturbing trend of "poop" being a keyword to lead you to everything I've ever written, but to give you some context for what I'm concerned about this weekend.
Somehow, some way, I got roped into taking my dog Tommy dock jumping. There are many reasons this is probably not a good idea. (The nervous pooping habit being right up there.) This Splash Dogs experiment with my dog is also the work of Stephanie, who somehow has infinite confidence in my little miscreant and his ability to surprise us.
In case you don't know what dock jumping looks like, check out the YouTube video on this page ... then contrast it with the YouTube video of my attempts to get my dog to do it.
Dock Jumping also got a little bit of press when they had a dock set up on Late Night with David Letterman for about a week, and actor Seth Rogen tried to outjump the dogs (in a suit. And he didn't beat the dogs, either!)
Today I'm reading anything and everything about dock jumping in anticipation of my dog being up there on that ramp in just a matter of hours.
Local
Get Los Angeles's latest local news on crime, entertainment, weather, schools, COVID, cost of living and more. Here's your go-to source for today's LA news.
Wikipedia had a bunch of boring statistics on stuff like the length of a dog's tail and which part of the dog hits the water at which time and bla bla bla.
Nothing about being disqualified if the dog poops on the ramp, so this is good.
I'm picking up a little lingo too ...
You can use the "place" method (make your dog wait, throw the toy, then have him go get it,) or the "chase" method (make your dog wait, then holler at him to go AS you throw the toy.)
A dog that jumps up at the end of the dock is said to have a good "pop".
A dog that jumps straight out at the end of the dock is said to be "flat".
I wonder what they say when a dog slithers off the end of the dock on his belly? The reason I'm not optimistic about this whole Tommy-taking-a-flying- leap idea, is that he is kind of wimpy about getting into the water. He LOVES the water ... once he's in. He's like all my girlfriends and I were when we were in the 4th grade, shrieking and howling and giggling with every step farther into the deep end, inch by inch.
If you don't believe me, check out the gallery at the top of the page, or the YouTube video here on the left.
The other thing is, this is a competition. There's no, hey bring your dog out and see if he can do it. Sure, there are practice sessions between waves, but there's no telling how your dog will react until you're there, and the only way to get there is to enter in an actual competitive wave.
I am in good company. My friend Mike is bringing his dog Hooper, and also very concerned that Hooper won't jump, or will do something stupid.
And Stephanie's dog will be there! I'm in good company, right?
Well, you see my dog in the picture below, cowering on the pool stairs.
Check out their dogs. Mike and I go way back to college radio days, so I'm confident he won't sue me for lifting this picture of Hooper off Facebook.
Hooper's the showdog you see in the gallery up on top of the page, along with Steph's dog Quiz,the agility competitor.
Yeah, that's comforting THESE guys will be there ... a dog whose nickname is "The Flying Quizini" and Hooper, the Best of Breed Showdog.
There is ONE time my dog took an incredible flying leap into a pool, and it was as I was telling the pool's owner "oh don't worry he won't jump in. We'd have plenty of warning if he wanted to get in the pool." There's a giant splash behind me, and I hear the distinctive snorting-hog sound my dog makes as he swims. "He's in the pool, isn't he?" I say, as she nods.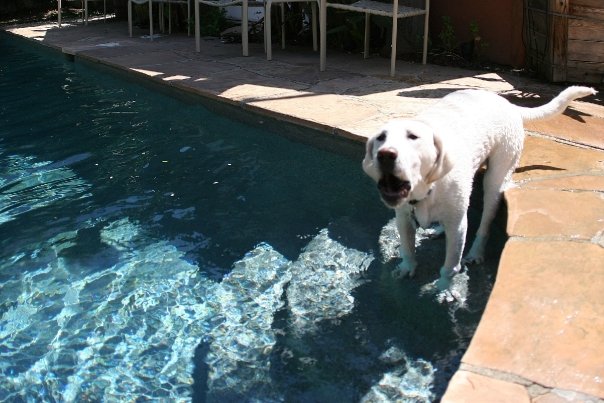 Our dogs surprise us sometimes, and definitely entertain us. I know I said Stephanie has endless confidence in Tommy, but she's also a realist. "Bring a change of clothes!" She tells me. Something tells me she thinks it's not too much of a stretch that I might be the one in the water.
So I'm taking a leap of faith, in my dog. I am hoping he does too!
(Check in Monday to see how it went. I can't promise he'll jump, but I can promise it will be entertaining, whatever happens.)