We knew something was different about this crash as soon as our reporter Toni Guinyard got there this morning. As police in Fullerton investigated the crash that killed three people, someone "in the know" told Toni that one of the victims was "a person of note."
Robert Kovacik and I, sitting on the set in Studio 10, mulled over what that meant. Usually a local politician, or the child of someone famous, or... well, that could mean anything.
Just after 8 this morning we heard that it was Angels' starting pitcher Nick Adenhart. Just 22 years old.
TMZ.com ran with the story first, as we tried to confirm and double-source and make sure we had the right information. The TMZ story says:
We're told one of the other men killed in the crash was also affiliated with the Angels organization. Nick was 22 years old.

FYI -- Nick pitched his ass off last night, striking out 5 guys in 6 scoreless innings. His performance was hailed by sportswriters as a "brilliant effort by a 22-year-old right-hander making his fourth Major League start."
We went on the air with the story as our editors scrambled through sports tapes from last night's game. Adenhart was on the mound, and our director Dave Weisberg, soon after I read the :20 story on the air, said in my ear, "yeah, can't believe it. I watched him pitch last night." All morning long, he had called up the tape for air as well, and we saw the twisted wreckage of that Mitsubishi on Today in LA over and over all morning long.
FOXNews.com put up a story shortly afterward, which repeated most of the information we already had. There isn't really much more to know, but as a story develops about something that holds the interest of so many people, I guess we hope for tidbits of information that somehow make it come out differently -- a form of news denial. But, it is exactly as it appears -- an awful car wreck, and a young life and huge talent, gone.
Our NBCla.com story went up and a flurry of viewer comments followed almost immediately. "Our hearts go out to the Adenhart family, and the Angels Organization. He pitched an outstanding game last night," says L&DWilbanks. Another person writes, "This is horrible. The kid pitched a gem last night and now is gone at 22. Wild guess, the idiot in the van was drunk. Just a terrible shame."
That IS a wild guess, because we don't know yet. Here's what the City News Service story says:
Adenhart, another man and a woman were all killed, and another man was critically injured, in a three-vehicle crash blamed on a motorist who ran a red light at a Fullerton intersection, police said.

Local
Get Los Angeles's latest local news on crime, entertainment, weather, schools, COVID, cost of living and more. Here's your go-to source for today's LA news.
Besides Adenhart, one of the other people who was also killed was also part of the Angels organization. Authorities withheld the names of the dead for hours, pending family notification.

Adenhart was born in Silver Spring, Maryland on Aug.24, 1986. "The right-handed pitcher graduated from Williamsport High School in Maryland and made his major league debut on May 1, 2008," TMZ reported.

Police said the driver of a minivan who was blamed for the crash fled the scene on foot but was arrested a short time later on suspicion of hit-and-run.

Witnesses said a minivan ran a red light and collided with a silver Mitsubishi occupied by four people, said Fullerton police Lt. Craig Brower. The Mitsubishi slammed into a light pole. A man and a woman in the Mitsubishi died at the scene, Brower said. Two other men in the Mitsubishi were transported in critical condition to UC Irvine Medical Center, where one man died, he said.

A San Francisco Chronicle story just posted that's sub-title says: "Sometimes there are no lessons to learn, no cautionary tales to tell. Sometimes existence just plain stinks because it does."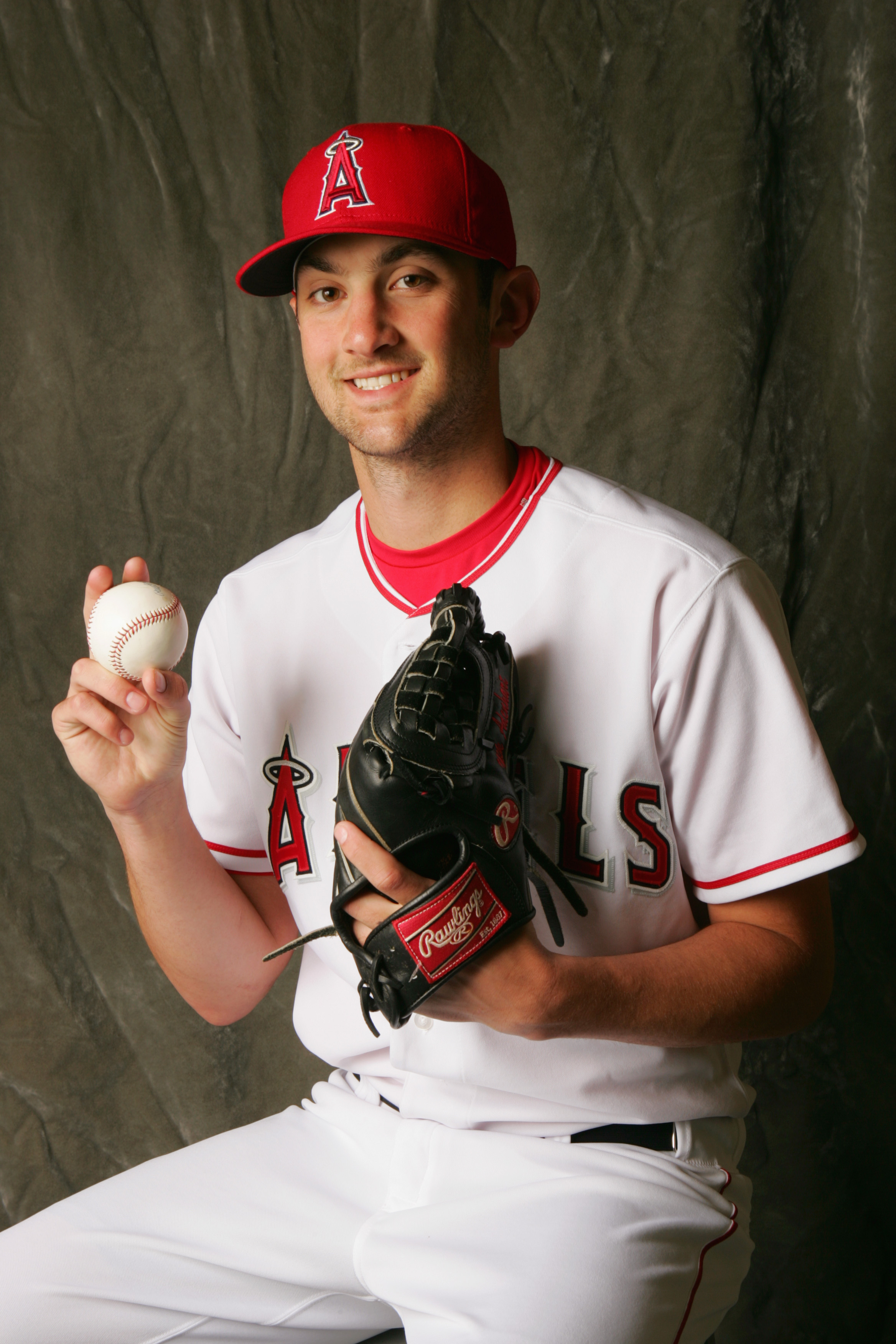 Here's the top of that story:
Nick Adenhart, the Angels pitcher who shut out the A's for six innings Wednesday night, died with two other people, one of them an Angels employee, when his car was struck by a van running a red light after the game. The driver fled the scene but was caught later and charged with felony hit-and-run.

And that's that. Dead, for no better reason except that they were in the wrong place. Top of the world, then gone.

And that often is the nature of things. We like to see bigger things in every event, and the hackneyed phrase "There's a reason for everything" is proof of that. Sometimes there isn't a reason except that a guy ran a light and then tried to flee his responsibilities. And maybe that's your cautionary tale.
It was a great night on the mound for Adenhart. Here's the writeup on the Angels' MLB page:
It was more than premium stuff -- mid-90s fastball, big curve, darting changeup -- from Adenhart. He showed his resolve, intelligence and adaptability in his season debut, repeatedly pitching out of jams across six scoreless innings. He caught Eric Chavez looking at a 3-2 curve during the first before retiring Suzuki to leave the bases loaded.

Two more A's were stranded in the second, and a ground-ball double play took Adenhart out of a first-and-third, one-out predicament in the fourth. Two singles opened the fifth and a two-out walk gave Suzuki another shot with the bases full. Adenhart retired him on another ground ball.

"It felt good to work out of some jams early," Adenhart said. "My curveball was really working for me, and then my change came on later when I needed it." In a direct departure from his nightmarish Major League debut against the A's last May, when they scored five times in two innings, he was confident and in command, 61 of his 98 pitches in the strike zone.

A perfect sixth ended Adenhart's night: seven hits, three walks, five strikeouts and kudos from the manager. "I thought he pitched a terrific game," Scioscia said. "He gave us a chance to win. He has better tools out there now. He pitched ahead a lot and was able to get back in counts and put guys away."
You always hear about how good someone is, when they're gone. It says something about Adenhart that this writeup on last night's game came before anyone knew it would be his last.