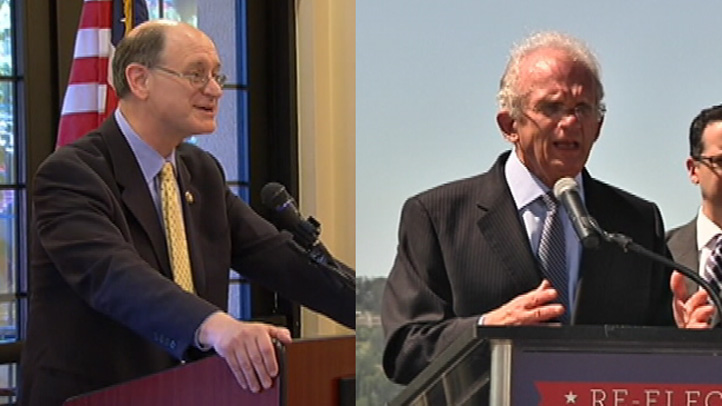 The bitter and expensive race to represent a portion of the San Fernando Valley - likely to become even more intense now that the two incumbents battling for a single seat appear headed for a runoff - is a key example of the political chaos created under recent changes in California's election system.
Decision 2012: Live election results, news, analysis
Rep. Howard Berman and Rep. Brad Sherman are only running against each other because the state has reworked all of its Congressional districts. Many safe seats - where incumbents never really had to worry about opposition - were eliminated. So the two Democrats - like others across the state - found themselves competing with each other to represent a newly drawn 30th Congressional district (map - PDF).
Local
Local news from across Southern California
A separate change in the state's primary system increases the likelihood that the two will face each other again in November even though they're both Democrats. Observers expect the race to grow even more expensive and divisive if that happens.
The two former allies have been slinging mud at each other for weeks through mailers sent to voters' homes, and have raised more than $5 million between them. It's the most expensive congressional primary in the country.
Both men are Jewish Democrats who hold center-left views. Much has been made in the local and national media of their similarities, not to mention their rhyming names. Berman was first elected in 1982, and Sherman in 1996.
Their battle was sparked by the California Citizens Redistricting Commission, a voter-approved body intended to take some of the politics out of the task of redrawing district boundaries.
The panel met for the first time last year, and the new 30th district was among the results.
Making this election even more unusual is that the incumbent-versus-incumbent contests – in the 30th Congressional District and elsewhere in across California – might not end today.
Because of the state's new balloting process, which sends the top two finishers to a runoff regardless of party affiliation, Berman and Sherman and other incumbent pairs are likely to face each other again in November. The two were indeed the top two vote getters in early returns, although Sherman, who already represents much of the area and is familiars to Valley voters, was ahead Tuesday night in early returns.
"If it weren't for the redistricting and top-two, this would be a real ho-hum election," said Bob Sterm, former president of the Center for Governmental Studies and a longtime observer of California politics. "There wouldn't be a Berman-Sherman, and tonight you would have a winner."
Because of Proposition 14, approved by California voters in 2010, the top two vote-getters in all state contests face off in the general election contest Nov. 6. Unlike in the past, candidates' political party affiliation is irrelevant to whether they appear on the ballot in fall.
Today's primary contests mark the first statewide election in which the top-two system is in effect.
That means in districts that lean heavily to one side politically – such as the largely Democratic 30th Congressional District – voters of the opposite partisan stripe will hold new importance in November elections.
So candidates in today's races are already appealing to constituencies they could normally ignore – which means Berman and Sherman are already looking to Republican voters for support in fall, Stern said.
The new "open primary" system means politicians will be spending more dollars to woo voters whom they could have ignored in the past, when relying on a victory in the primary largely guaranteed re-election in districts with a significant voter-registration advantage for one party.
"The theory is we'll be electing more moderates. But races will be much more expensive that they would be otherwise," Stern said. "Now your vote counts no matter what district you're in, if there's a top two."
Voters approved the creation of a citizens committee for redistricting of state Senate and Assembly seats in 2008 with the passage of Proposition 11. In 2010, state voters passed Proposition 20, which added congressional district boundaries to the responsibility of future redistricting commissions.
In the case of Berman and Sherman, the lines of a new 30th Congressional District included each of their homes. Less than a quarter of Berman's former district is in the 30th; while more than half of Sherman's old territory is in the new one.
Berman and Sherman on Tuesday are up against Democrat Vince Gilmore and Republicans Mark Reed, Susan Shelley and Navraj Singh – but polling shows the two Congressmen are expected to prevail.
Follow NBCLA for the latest LA news, events and entertainment: iPhone/iPad App | Facebook | Twitter | Google+ | Instagram | RSS | Text Alerts | Email Alerts