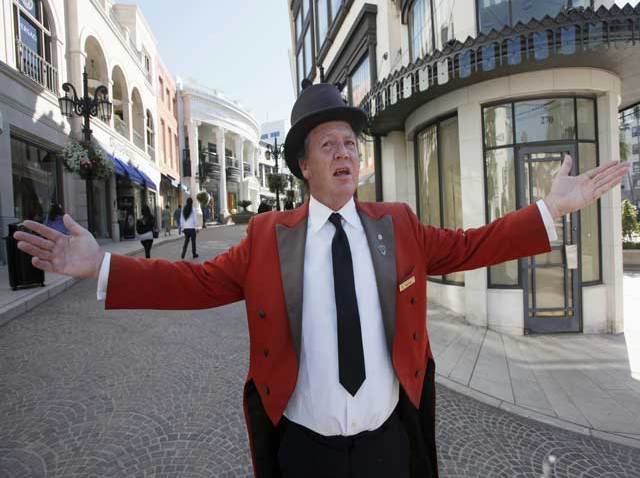 Beverly Hills can no longer afford the hospitality provided by Gregg Donovan.

The actor has been Beverly Hills' ambassador for the last decade. Donovan told the Associated Press that he was notified last month by his bosses at the Beverly Hills Conference & Visitors Bureau that they could no longer afford him.

Donovan donned top hat and tails -- pure class -- and gave directions, posed for photos and promoted local businesses.

"How could they do that?'' asked CNN's Larry King who bumped into Donovan during a recent morning stroll. "He's a Beverly Hills institution.
"It's a hell of a thing,'' King muttered as he bid Donovan goodbye.
Donovan's welcoming smile is on visitors maps and T-shirts. One Rodeo Drive jeweler called him "a face of the city."

Under terms of a separation agreement he showed The Associated Press, Donovan was asked to relinquish his red ambassador jacket. He also must give up rights to any photos, videos or other materials representing him as the city's ambassador.

But Donovan has refused to sign the agreement, the AP reported. He is asking anyone who has ever taken a photo with him to e-mail Mayor JImmy Delshad in a show of support.

Delshad's office said the mayor was unavailable for comment but couldn't help because Donovan was employed by the visitors bureau and not the city. The visitors bureau's executive director, Kathy Smits, did not respond to phone and e-mail messages from the AP.

Since he was let go, Donovan said he has kept busy taking in movies, going to the gym and looking for work. The 51-year-old former concierge and personal valet to Bob Hope said he'd be willing to take a similar job, perhaps in a place like Hollywood.



Copyright AP - Associated Press