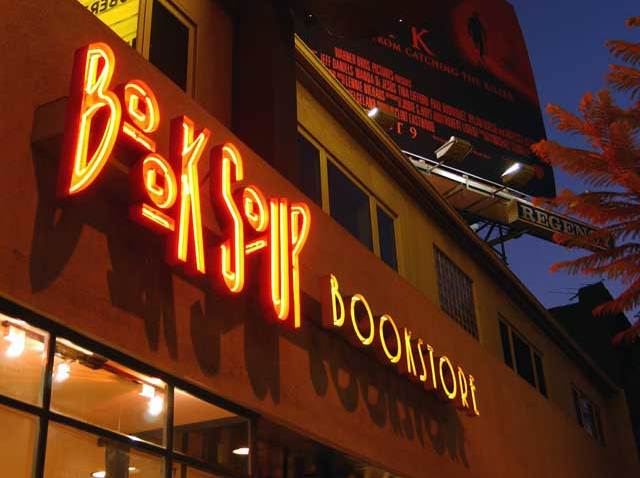 Two LA institutions get back together after a 30-year separation Monday when Book Soup stocks its shelves with "alt porn."

It marks the first time in more than three decades that Book Soup, an independent shop on Sunset Boulevard, will carry adult videos.

So what's "alt porn" you ask? It's like regular porn, but more thoughtful and artistic (Warning: clicking on that link will take you to a site that provides a warning that you're about to enter an adult themed website).
California Institute of the Arts grad Eon McKai is the man behind Vivid-Alt.

"We've been following the career of Eon McKai... and feel that he's done some exceptional work at Vivid-Alt," said Robert Tyson Cornell, director of marketing and publicity for the retailer in a news release. "We believe that our customers will want to discover his edgy approach to the genre."
"Edgy" might depend on your perspective, but Vivid-Alt is adult entertainment giant Vivid's shot at the genre. It takes modern social themes and weaves them into such sensuality charged tales like "Man's Ruin," "On My Dirty Knees" and "Bad Luck Betties."
Local
Local news from across Southern California
Here's a synopsis of "The Doll Underground," a movie inspired by militant activism of the late 1960s:
The Doll Underground first surfaced virally via anonymous video clips planted throughout the blogosphere. Their message was simple: a call for young women to rise up from their homogenized suburban environments and unite against the tyranny of big business.

Inspired by the late 60s activist-turned-militant Leftist collective, The Weathermen, the Doll Underground are here to wake up our day-dreaming nation from the financial dictatorship that continues to crush it. Lead by Dorrn Adorn (Pixie Pearl), these sexually-charged revolutionaries take refuge in LA's now entombed Belmont Tunnel. Outfitted in Lolita Gothic uniforms and strapped with home-made explosives, the Dolls plot to take down the Owners by any means necessary.

Check out LAist for a few photos from the release party for "Content," Vivid-Alt's latest production.

The store's website has a new page devoted to the Vivid-Alt section. The introductory QuickTime video is worth watching to the end.
Also on the site, a link to buy tickets for Nobel Peace Prize recipient Al Gore's Nov. 12 discussion on the global climate crisis. It's hot, too.
"We are thrilled about being in Book Soup," said McKai in a news release. "It's much more than a store, it's an artistic center for the community and it's both loved and respected."

The store is at 8818 Sunset Blvd., West Hollywood.