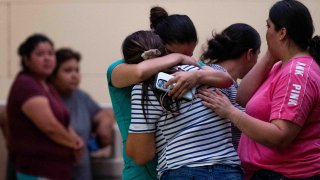 Nineteen children and two teachers were killed in a mass shooting at Robb Elementary School in Uvalde, Texas, on Tuesday.
The suspected shooter was also killed, according to Texas Gov. Greg Abbott.
As people in Texas and around the U.S. reeled from the tragedy, politicians and community members in California responded to the horrific event.
State officials responses
California Gov. Gavin Newsom had strong words in the wake of the shooting, laying blame at least in part on the Republican party.
"14 children and a teacher dead," he said in a statement on Twitter. "Another shooting. And the GOP won't do a damn thing about it. Who the hell are we if we cannot keep our kids safe. This is preventable. Our inaction is a choice. We need nationwide, comprehensive, common sense gun safety NOW."
The comments from California's governor are similar to other statements Newsom has made following mass shootings, calling for more restrictions on firearms.
California Sen. Dianne Feinstein pointed out the sheer number of mass shootings in 2022 in her statement.
"So far this year -- and we're not even at the end of May -- there have been more than 200 mass shootings leaving more than 230 dead and more than 840 injured," Feinstein said in part.
She too had fiery words for the political opposition, adding on Twitter as the story was still developing, "Another day, another mass shooting, and more silence from the gun lobby and Republicans who refuse to allow any gun safety reforms to occur. Reports that 14 elementary school students and a teacher have been murdered are beyond tragic."
Local officials responses
Mayor Eric Garcetti said he was "sick of this," after news of the tragedy.
"Our hearts are breaking. I'm sick of this. We can't keep losing innocent children because we're incapable of doing what's right. We can't stall on gun control any longer. How much sorrow before stopping these acts of senseless violence?" he tweeted.
The two leading candidates to be the next mayor of Los Angeles each spoke up about the shooting on Twitter.
Like Newsom, Rep. Karen Bass of California's 37th district did not mince words.
"14 children and a teacher had their lives cut short today because of the absolute cowardice of the Republican Party, which refuses to pass our gun reform legislation," Bass said on Twitter on Tuesday afternoon. "We cannot grow numb to these shootings. We must continue our fight. We need to pass reforms NOW."
Rick Caruso, billionaire businessman and the other leading candidate for LA mayor, expressed his condolences to the families.
"As a father, my heart absolutely breaks for the families in Texas tonight," Caruso said on Twitter. "No parent should ever have to endure such unbearable loss. We have to do better as a country."
LA County's Sheriff, Alex Villanueva also tweeted in response to the shooting. In his message he mentioned that LAPD Headquarters will be working with local school resource officers to ensure students safety.
Rep. Salud Carbajal, who represents California's 24th District, took some time to recall a shooting that occurred in Santa Barbara eight years ago.
"8 years ago, it was Santa Barbara. Today, it is Uvalde," he tweeted.
Rep. Adam Schiff who represents California's 28th Congressional District and Chairman of the House of Intelligence Committee described the shooting as a "horror." Like other Democrat leaders Schiff called out the GOP for not taking a stand for gun safety laws.
Like Newsom and Bass, LA mayoral candidate and LA City Councilman Kevin de León was not shy about making his thoughts known on Twitter. In his statement he said he is "disgusted" that shootings like the one in Texas have become normal behavior across the country.
He also called for more national gun safety laws to prevent shootings like this from happening in the future.
Current LA City Council President Nury Martinez expressed her shock at the string of horrifying mass shootings in the U.S. in recent years, and frustration at the lack of widespread action taken in the face of each event.
"Uvalde, 18 students. Parkland, 14 students. Sandy Hook, 20 students. Virginia Tech, 27 students. Columbine, 12 students," Martinez said on Twitter. "This has gone on for decades. No end in sight just "thoughts & prayers". What are we doing if we can't keep our kids safe? This is the 212th mass shooting of 2022."
California Rep. Katie Porter recalled the incidents that took place in Buffalo, Houston, and Orange County in her statement.
"Robb Elementary students went to school today ready to laugh with friends … Fourteen aren't ever coming home," she said in her statement.
The Uvalde mass shooting, in a Texas town around 85 miles west of San Antonio, took place just over one week after other mass shootings in Orange County, California and Buffalo, New York.
President Pro Tempore of the LA City Council Mitch O'Farrell shared his grief and anger in a series of tweets on Monday evening.
"Today, yet again, we search for some kind of appropriate reaction to a tragedy in which words are wholly and completely inadequate," he said in part.
"Each of these shootings - like the hundreds and hundreds of others in the only nation on earth that allows this to occur - rips at the soul of what our country aspires to be," he said in another part of the Twitter thread.
Local
Get Los Angeles's latest local news on crime, entertainment, weather, schools, COVID, cost of living and more. Here's your go-to source for today's LA news.
"Thoughts and prayers are useless and empty," he said. "Only action will be enough. Only a major paradigm shift will be enough. It needs to happen and it needs to happen now."
Both LA District Attorney George Gascón and Orange County District Attorney Todd Spitzer also shared their thoughts on Twitter.
"My deepest sympathies are with their families," said Gascón and also addressed it to the community of Uvalde.
Spitzer's statement was lengthy and included a call to action directed at Congress to "address the serious mental health needs of our nation."
He continued by saying that the children affected in the shooting need more than just prayers.
Tuesday's assault at a grade school in the heavily Latino town of Uvalde, which killed 19 children and two teachers, was the deadliest shooting at a U.S. school since a gunman killed 20 children and six adults at Sandy Hook Elementary in Newtown, Connecticut, in December 2012.