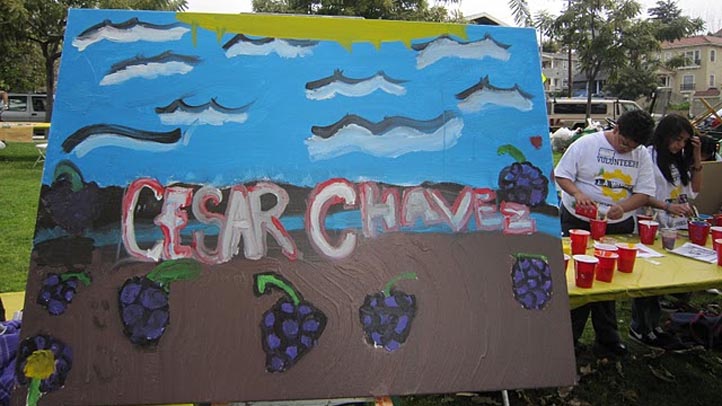 César Chávez Day celebrations that began over the weekend carried into Thursday to mark what would be the Latino civil rights activist's 84th birthday.
Chávez, born on March 31, 1927, co-founded the National Farm Workers Association with Dolores Huerta, which later became the United Farm Workers. On Thursday, eight states, including California, recognize his birthday as a state holiday.
On Saturday, March 26, L.A. Works, a nonprofit focused on community service projects, partnered with the Greater Echo Park Elysian Neighborhood Council in an effort to clean up the neighborhood and work with students from the Los Angeles Unified School District to create murals in line with Chávez's teachings of community justice.
Local
Local news from across Southern California
Neighborhood Council President Jose Sigala said experienced muralists and volunteers supervised the students. Their art will be donated to Echo Park Library, Edendale Library, Rosemont Avenue Elementary School, Mayberry Street Elementary School and Logan Street Elementary School.
Chávez's grandson, Andres Chávez, was on hand to thank everyone for coming to the event. Sigala said Chávez encouraged people to continue to "honor the idea of volunteerism." Richard Polanco, a former state senator who helped establish César Chávez Day as a state holiday, also attended.
Afterward, the adults were joined by a handful of children in cleaning up nearby streets and Echo Park Lake. Using a city sanitation bin, Sigala and his team rid the streets of abandoned items -- couches, toilets, mattresses, even entertainment centers.
"That's part of the whole holiday," Sigala said. "It's to encourage a day of service."
Also Thursday, the Basset Education Foundation's second annual César Chávez Day celebration will honor Chávez and local heroes and institutions, including the Los Angeles County Sheriff's Department's Industry Station, the Bassett Teachers Association, Classified School Employees Association and San Gabriel Valley Tribune reporter Thomas Himes, who wrote a series of articles about vehicle checkpoints and impounds.
The celebration will be held at Torch Middle School from 5 p.m. to 9 p.m. and is free and open to the public.