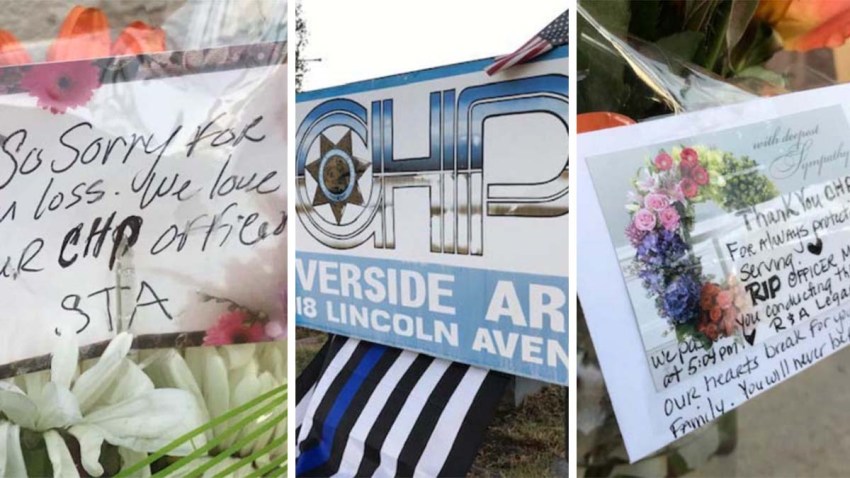 The handwritten messages left at a memorial outside the Riverside CHP office offer sympathy and support for those who worked alongside 33-year-old Officer Andre Moye, killed in a shootout earlier this week.
It's one of the stories we're featuring today on NBCLA.
Photos: How CHP Officer Andre Moye is Being Remembered in Riverside
Local
Local news from across Southern California
The California Highway Patrol office where Officer Andre Moye worked has become a site for a community to grieve after the death of the beloved 33-year-old officer during a horrific shootout in Riverside. Handwritten messages, wreaths, flowers and other items have been left outside the station.
Brother Sought in Teen Girl's Fatal Shooting at Lancaster Home
An 18-year-old man is being sought by investigators in connection with the shooting death of his teen sister at a Lancaster home. The man was armed with a handgun when he left the residence, according to the sheriff's department. We'll have updates here.
Pictures: Carson's Vision for a Destination Premium Outlet Mall
The aim is the revamp a property that has sat vacant for half a century and turn it into a premium outlet mall. Here's what that will look like if all goes to plan in Carson.
This Week: Final 2019 El Segundo Art Walk
Looking for something to do this week? There's El Segundo Art Walk, Black Restaurant Week and Maisel Day. See the full list of events around LA here.