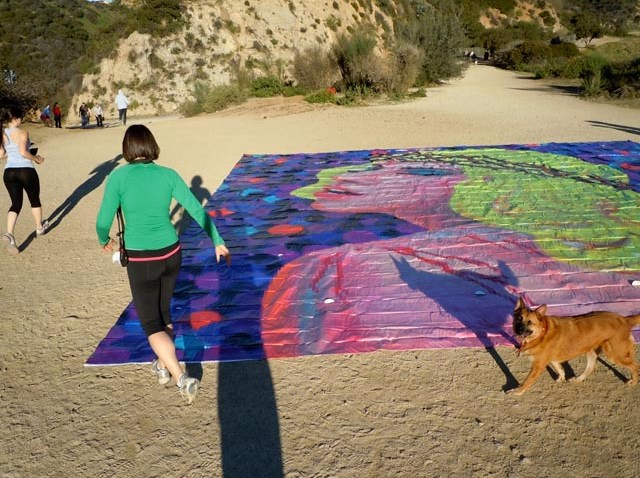 Just in time for the Grammys (and conveniently the release of a new single), an oil painting of Lady Gaga mysteriously appeared Friday morning atop Runyon Canyon in the Hollywood Hills.
"Here is what I stumbled up on during my morning jog before work," said tipster Alexis Zimmer in an e-mail.
"I took pictures of what looks like an gigantic painting of Lady Gaga with a crown of thorns on her head with blood. The painting is laying flat all the way on top of the hill near by the benches..."
Local
Local news from across Southern California
Around 2:45 p.m., aerial video showed authorities removing the artwork.
The oil painting, measuring 30 feet by 30 feet, was the work of artist Castro.
In an e-mail to NBC, Castro writes, "Hollywood, where stars are worshipped today, just to be crucified tomorrow. ...The idea behind the painting goes beyond Gaga and way beyond religion."
Castro says the Christ-like depiction of the pop star was installed atop Runyon Canyon around 6 a.m. Friday.
Gaga's publicist denied any involvement, saying their camp was unaware of the artwork.
There's a precedent for surprises atop Runyon Canyon. Right before last year's Academy Awards, skeletonized Oscar statues began appearing around the city. Those were eventually linked to U.K.-based artist D*Face.