A newspaper woman who, along with her mother, was mistakenly shot by police during a manhunt for a rogue ex-officer said she's still scared to leave the house, five months later, for fear of coming under gunfire.
Margie Carranza, 46, and her mother Emma Hernandez, then 71, were delivering newspapers before dawn Feb. 7 in Torrance. They publicly shared their stories for the first time Tuesday.
"I feel scared to go out at night. I am scared that I will get shot by police," Carranza told NBC4.

Local
Local news from across Southern California
Because an officer who lives in the area was named in disgruntled ex-officer Christopher Dorner's manifesto, police were posted on protective duty in the 19500 block of Redbeam Avenue as the women made their way through the neighborhood.
As the newspaper women slowly drove down the street, officers opened fire on their blue pickup truck mistaking it for Dorner's gray or dark blue Nissan Titan.
"When the gun shots started, I started yelling 'Im the person that delivers the LA Times!' I was thinking, 'What is the reason they're shooting at me?" Carranza recalled.
Hernandez was shot twice in the back and neck, and said she's doing fine. Her daughter was grazed by bullets, and said that February morning flashes through her mind daily.
Carranza recalled commenting to her mother how strange it was that officers were patrolling her delivery area so early. As soon as she put the car in park, she heard the first gun shot and told her mother, "Don't be afraid, don't be afraid."
Eight LAPD officers fired allegedly more than 100 bullets at Carranza and her mother. Bullets pierced through the hood of one of the women's sweatshirts, pictured below.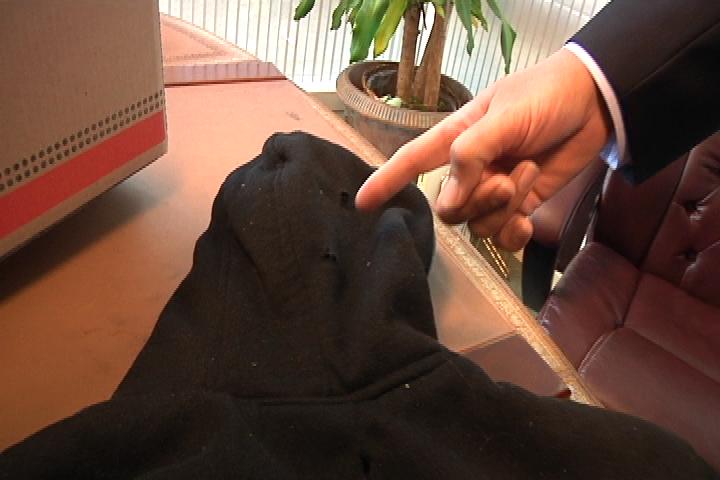 In April, the city of Los Angeles announced it will pay $4.2 million to the women to split "any way they want." Hernandez and Carranza told NBC4 they have received the checks and they have cleared.
About two blocks away and 25 minutes after the mother-daughter pair was shot, officers opened fire on David Perdue's black Honda Ridgeline.
Police fired at least three bullets at Perdue's truck before ordering him out and detaining him for an hour, according to documents filed in federal court in Los Angeles July 8.
Perdue's claim against the city of Torrance was denied earlier this month.
The trio was shot during a frantic weeklong manhunt for Dorner, whose online manifesto vowed violence against Southern California law enforcement agents and their families unless his 2008 firing from the Los Angeles police force was investigated and his name cleared.
Dorner allegedly killed Riverside Police Officer Michael Crain, San Bernardino County Sheriff's Detective Jeremiah MacKay, and newly engaged couple Keith Lawrence and Monica Quan, the daughter of a former LAPD captain.
Dorner died Feb. 12 from a self-inflicted gunshot wound to the head during a shootout and the burning down of a cabin in which he was barricaded near Big Bear, San Bernardino County Sheriff's Department officials said.
Dental records positively identified remains found in the burned-out cabin as belonging to Dorner.